Income tax cut is 1st in Ga. history
• Sen. Hufstetler says he expects the bill to be sent to the governor for signature next week.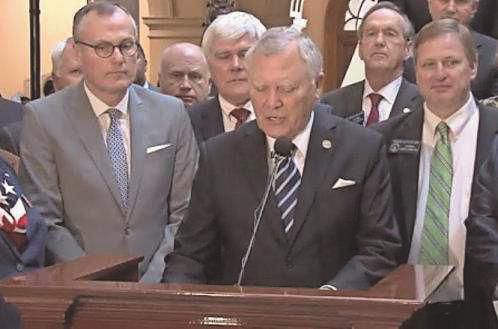 Most Georgia taxpayers will see a tax cut this year under a plan unveiled by Gov. Nathan Deal during a press conference Tuesday.
The legislation — a compromise hammered out with lawmakers late last week — will double the standard deduction and kick off a two-tiered reduction in the rate.
"This is the first income tax decrease in the history of Georgia," said Sen. Chuck Hufstetler, R-Rome. "And it's a true middle class tax cut."
Hufstetler, who chairs the Senate Finance Committee, was closely involved in the negotiations, which included his House counterpart Rep. Jay Powell, R-Camilla.
The two stood with Deal, Lt. Gov. Casey Cagle and House Speaker Dennis Ralston for the announcement at the State Capitol.
Under House Bill 918, the standard deduction is doubled this year from $2,300 to $4,600 for individual filers and from $3,000 to $6,000 for married joint filers.
Then, starting next year, the top rate will go to 5.75 percent from 6 percent and drop again, to 5.5 percent in 2020.
"This bill ... will save taxpayers more than $5 billion over the next five years," Deal said. "Doubling the standard deduction will also allow Georgia filers to take fuller advantage of the newly enhanced federal standard deduction."
Powell's ways and means committee is expected to pass the measure on to the full House quickly and from there it will go to Hufstetler's finance committee.
Hufstetler said he previewed it for the Senate Republican caucus before Deal's announcement and, despite a provision that restores a jet fuel tax exemption, it was well-received.
"There are a lot of us that aren't in favor of that, but it's $35 million and we get $1 billion. That's the compromise I had to agree to," he said. "I feel fairly certain this will have passed the House and Senate by next week."
Because state law requires filers who claim the standard federal deduction to do the same on state taxes, Georgia would have received a "windfall" of about $5 billion a year. After a brief celebration, lawmakers realized it would have come directly out of taxpayers' pockets and started working on an adjustment.
Hufstetler said HB 918 eliminates the windfall and cuts income tax revenue an additional $1.2 billion a year.
A family of four earning $50,000 will see a 16-percent decrease, he said. At the $75,000-level it will be 12 percent and at $150,000 it will be 10 percent.
"About 49 percent of Georgians earn $50,000 or under that," he said. "This covers about 95 percent. It's an income tax break for every bracket."
A provision in the bill requires the Legislature to affirm the decrease to 5.5 percent in 2020. Hufstetler said it's just a fail-safe mechanism to ensure the revenue projections are correct — "But they are."
Deal said the legislation "addresses Georgia's projected windfall while balancing the state's fiscal health and protecting our AAA bond rating."