• The pastor who will speak at the Hearts United Gathering speaks about the power of forgiveness.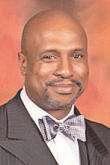 On the first Sunday he led the service at Charleston's Emanuel AME Church, specifically during the Lord's Supper, the Rev. Eric S.C. Manning was consumed by what he saw.
"I saw all types of hands," he said of the moment parishioners held their hands out over the chancel rail. "Black hands, white hands, yellow hands ... it was just a glimpse of heaven."
After becoming pastor of the historically black church in June 2016 — a year gone by from the day self-proclaimed white supremacist Dylann Roof entered the church, armed, and gunned down nine people during a Bible study — Manning said people from across the world have come to the church, sat in its pews and taken in the Eucharist.
"We see a cross representation," he said, adding that people have traveled from places like Australia, the Netherlands, China and Korea. "It's just been that type of experience that I really feel God has called us to really tear down these barriers that we erect, sometimes falsely, between each other."
Manning reflected on the experience of his first Sunday, saying, "If we cannot do it or get it correct here, what makes us think that we will be able to ... really enjoy that moment when we get to glory."
And when Manning comes here Thursday to deliver the keynote at the third One Community United Hearts United Gathering, he will speak to what many of those from far away, and even closer to home, come to ask: How do we forgive? He admits forgiveness is much easier said than done, and embracing this action, especially by those who have been wronged with prejudice and hatred, is hard.
"Sometimes people may not be ready to embrace forgiveness because they can still remember segregation, and sometimes that's more challenging," Manning said. "Sometimes they can remember how they have been spat upon, can still remember the crosses that were burned, and then we fast forward to this last year in Charlottesville, the same type of imagery that is there. But we have to get to that point where we say as Jesus shared on the cross 'father forgive them for they know not what they do.'"
Choosing to forgive, is to "choose to go down the path of love, of grace, of thanksgiving, joy and peace," Manning said. It is a rejection of the path of hate, despair and hopelessness, he said; though, it is not to condone ignorance.
"Regardless of how painful our past may be, it is to embrace with open eyes, an open lens," he said. "Sometimes forgiveness is not necessarily a sprint. But it becomes a marathon.
"It becomes a way of life. It becomes something that we must continue to embody and we must continue to seek realistically for one another."
Forgiveness as an action includes direct involvement in moving forward in developing a dialogue focused on finding common ground.
"So let's find that commonality," Manning said. Let's find where we are together."
Prior to the free HUG event at Rome First United Methodist Church, starting at 6 p.m. Thursday, Manning will meet with local faith leaders at Lovejoy Baptist Church at 9 a.m. Meeting with fellow clergy members is important to him, he said, in building a connection among them to foster strength in a community, because they must exemplify what it is they say.
"It's one thing to talk about reconciliation. It's one thing to talk about coming together. But if clergy members cannot do it, then that's a far greater concern," Manning said. "Clergy leaders are the ones who are supposed to understand the commandments that God has given to us, and we are the ones who are supposed to be leading by example."
But if the relationship is fractured and left without nurture, Manning asks: what message does that send to the community.
"We cannot be hypocritical on Sunday morning. We can't get up and say that we love God, who we never see, but we cannot tolerate our fellow brother who we see every day," he said. "If we can't get it right in our own local space, then what makes anyone think we can get it right on a large national space."
For more information about the HUG event, visit onecommunityunited.org or search for the group on Facebook.