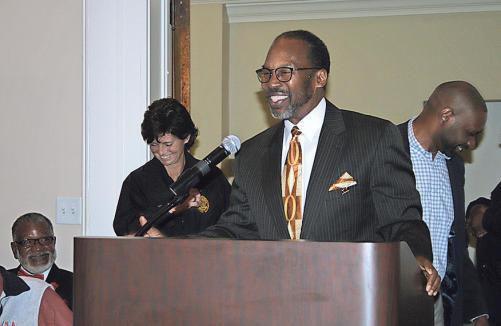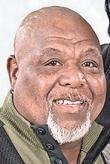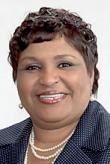 For the first time ever, the Rome City Commission marked Black History Month under the auspices of an African-American leader.
"I thank God I had the privilege to go to a celebration where Rome, Georgia, has selected Bill Collins as mayor," said Bishop Bobby Grier Sr., who moved to Rome from Cedartown in 1953 and was one of 15 local ministers recognized at Monday's event.
The Rev. Carey Ingram, with 32 years at Lovejoy Baptist, was the youngest of the group. His acceptance speech — the last of the evening — underscored the reminiscences shared by Collins and Commissioner Milton Slack as they presented certificates to the men and women who helped shape the fabric of the community.
"I am yours. I am a product of Rome, Georgia," Ingram said. "Most all of these ministers who stood here had an impact on my life."
Commissioner Sundai Stevenson put together the program, which highlighted the interconnectedness of local families and the importance of the church from a time of segregation to the present.
The Braziel family was well-represented on the roster, starting with Bishop Wesley Braziel — the first African-American in Rome to ride the city transit bus, to become a firefighter and to rise to the rank of battalion captain. Bishop Bobby Braziel and Bishop Howard Braziel also were recognized.
The list of honorees included the Rev. Warren Jones, 97, a white man who moved into South Rome with his family in the 1960s and set up programs ministering to children of all races. Collins said "we remember" how Jones and the late Samuel Burrell — the first black county commissioner — used to eat breakfast together in different restaurants around Rome, to make a point.
"You stepped out," Slack said to Jones. "You did your part. ... I thank you, brother."
Another honoree, Bishop Jesse Pete Smith, founder of the interdenominational United Pastors Standing Strong, also accepted a certificate on behalf of his mother. The Rev. Julia Smith was called to minister in 1962, he said, at a time when it was rare for women to preach.
"She'd be well-pleased to know she is recognized as one of the pioneers of black history of pastoring as a woman," Smith said.
The Rev. Louise McCluskey, with more than 40 years in service, was on hand to accept her certificate. She noted that her Glorious New Jerusalem Pentecostal Church was integrated early, and her ministry extended beyond the church.
"I did prison ministry; I did jail ministry; I did street ministry. And some of those people are now ministers," she said. "It's great what God can do, and it's not over yet."
Others honored included the Rev. Terrell Shields, who founded the annual Thanksgiving Love Feast, and Bishop Nealon Guthrie, who turned a house of ill repute called Peggy's Place into Greater Christ Temple Rapture Preparation Cathedral.
Bishop Norris Allen, an entrepreneur who encouraged Collins in his own business and community involvement; the Rev. James B. Jewell of Pleasant Grove Baptist Church; the Rev. Gordon Wells of New Life of St. John the Baptist Church; and Bishop Alex Allen of Faith Temple on Bran ham Avenue also were acknowledged as longtime pillars.
"We as black folk have come a long way," Bishop Alex Allen said. "And we want to continue."
Attendees agreed, and applauded when Stevenson emphasized the sense of community embodied in the city's network of churches.
"I want all of us to remember we're in this together ... We're all in this together," Stevenson said.