• Most on the team had never bowled before, yet earned gold, silver and bronze prizes.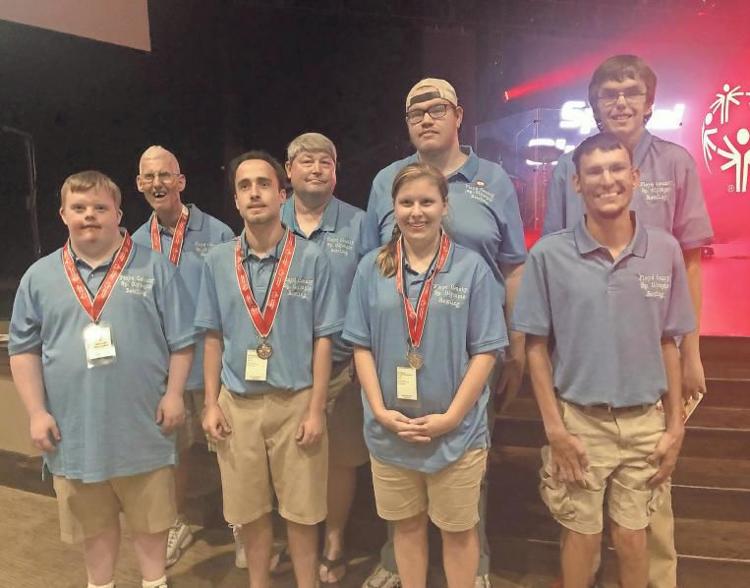 The sheer fact that all eight athletes from the Rome and Floyd County Special Olympics Bowling Team brought home a medal from the State Masters Tournament last weekend is noteworthy enough.
But to Karen Cook — team organizer and mother of two of the athletes — the most impressive aspect of the entire experience was how well the local group followed the rules, showed good sportsmanship and quickly learned how to hit the pins without relying on lane bumpers.
"What I was most proud of was that although every one of them had such different abilities and all bowl differently, they all figured out how to make it work and work as a team," said Cook, who adopted three special needs children. "I didn't care how well they scored. I wanted to be sure they knew the rules and demonstrated good sportsmanship, and I can tell you they were better behaved and showed more courtesy than many of the other teams and even the adults."
The scores weren't too shabby, either, from this group that ranged in age from 23 to 64.
They won three gold, three silver and two bronze medals at the tournament in Warner Robbins that drew about 1,000 bowlers from across Georgia.
Justin Harrison, Pat McCoy and Andrew Cook came home with gold medals; Dora Nichols, Shannon Floyd and C.J. McGinnis won silvers; and Adam Tuck and Jaime Carter brought home the bronze.
"The majority of the bowlers there had been there before, but this was the first time our group had attended," Cook said, explaining that this team was formed from a group that already had been competing in soccer, baseball and basketball. "We were just trying to find something to do during the down times of January and June."
Cook said that besides learning various bowling techniques, they needed to learn how to sit and wait for their turns and to be courteous to others on adjacent lanes.
"For a lot of them, sitting still is hard," she said. "But they did it!"
Cook and bowling coach Florice Schneider also taught them how to bowl without the crutch of the bumpers that kept their balls out of the gutters.
"They gained a lot of confidence when they realized they could actually hit the pins without the bumpers there," said Cook, whose 23-year-old son Andrew has cerebral palsy and still managed to bowl a high of 236.
Schneider, who took into her home the team's oldest bowler, 64-year-old Pat McCoy, 10 years ago, said Tuesday the event turned out even greater than she expected.
"My guy was hysterical," Schneider said of McCoy, who has developmental disabilities. "He didn't get nervous at all. He was so nonchalant when he'd bowl a strike."
For Andrew Cook, it wasn't winning the gold medal that he recalls with the most fondness.
"Being there with my friends and watching them bowl," Cook said of his favorite takeaway from the tournament after getting home Tuesday from his job working for the Rome Braves.