Upgrades for the Floyd County Police Department would replace aging equipment and provide internet access for officers in the field.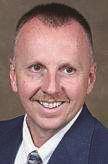 A new server, body cameras, in-car cameras, mobile tablets and forensic equipment would land in the hands of the Floyd County Police Department if voters approve an extension of the 1-cent special purpose, local option sales tax on Nov. 7.
The public safety technology upgrades come with a price tag of $415,170 and are included for funding in the $63.8 million SPLOST package. The current SPLOST ends March 31, 2019. If voters give the go-ahead for an extension, a five-year collection period would kick off on April 1, 2019.
$141,300. Included in the project is the purchase of 65 Microsoft Rugged Surface Pro tablets for $78,000 that would be installed in patrol vehicles. However, Assistant Police Chief Mark Wallace said the type of tablet could change depending on when the purchase is made, and the department would want the most up-to-date devices — the mobile data access project is fourth on the priority list.
These tablets could be taken out of the vehicles and used to take pictures, which could be digitally linked to reports. They would also help in solving the department's issue with having a revolving door of point-and-shoot cameras, Wallace said.
The tablets would be covered with one-year extended warranties for a cost of $5,000. Vehicle mounts and Bluetooth keyboards for each of them come in at $27,625.
But, perhaps the most important piece is the $30,675 to set up hotspots, which will be placed in specific geolocations and will provide officers internet access while out in the field to write up reports, download pictures and access record keeping systems, Wallace said. The department is also working on an arrangement with Floyd County Schools to allow officers access to schools' Wi-Fi, he added.
Right now, officers have to come back to the Joint Law Enforcement Center to complete their reports, adding up fuel costs and mileage on vehicles.
Not a day goes by when officers don't have to stay overtime to finish their reports, Wallace said. Coming out of the recession, he added, there just wasn't any money to spend on technology upgrades, but kicking the can down the road can only go on for so long.
The top-priority project is a $76,215 purchase of a new server and a $10,785 buy of a DVD robot writer, which is used of duplicating videos for court and open records requests. The current server's end-of-life is on Nov. 15, 2021, and it's required for them to be replaced every five years — so does the DVD writer — to meet upgrades and maintenance. The server stores video for all 125 incar and body cameras.
Replacing 110 body cameras, including two-year maintenance agreements, would cost $64,000, and would give all officers one as well as spares. Eighteen in-car cameras would take the place of all but two cameras that lose their five-year maintenance coverage, which covers repair and replacement costs, next year.
New forensic equipment for $20,270 would add to the department's investigative capabilities. A fuming chamber — this is used for safely finding fingerprints on evidence — along with an alternate light source system and a reflected ultra-violet imaging system are the pieces of the equipment the department would gain.
Analternate light source system can help reveal evidence, from blood stains to bone and teeth fragments, that crime-scene investigators can't see. With the imaging system the department wants, investigators can look for hidden fingerprints without using powders or chemicals on evidence, and it can narrow down the area in which they have to search.
SPECIAL PURPOSE, LOCAL OPTION SALES TAX PROPOSAL
The SPLOST Citizens Advisory Committee is recommending a $63,881,680 package of projects for funding through an extension of the current 1-cent special purpose local option sales tax.
If voters approve the projects in the Nov. 7 countywide election, collections would start April 1, 2019, and run for five years, through March 31, 2024.
• Agricultural Center, $8,000,000
• Cave Spring sewer improvements, $1,281,000
• Upgrades to the 911 Center, $257,000
• Recreation, $2,026,600
• Prison security upgrades, $2,705,000
• East Central secondary access, $395,000
• Rome public works, $5,000,000
• Public safety facility and equipment $4,400,000
• Historic Courthouse renovations, $5,000,000 Roads and bridges, $4,500,000
• Texas Valley water line extension, $2,500,000
• Jail medical facility Phase II, $5,200,000
• North Broad Youth Center recreation, $600,000
• Silver Creek Trail extension to Lindale, $1,180,000
• Waterways, $3,639,500
• Land for economic development, $3,110,000
• Fifth Avenue River District streetscape, $2,000,000
• County capital equipment and vehicles, $3,400,000
• County public works facility, $2,450,000
• Airport corporate hangar, $899,210
• State Mutual Stadium improvements, $2,000,000
• Public safety technology, $415,170
• Barron Stadium improvements, $825,000
• Special operations equipment, $248,200
• Rome water system improvements, $1,750,000
• Administrative costs, $100,000