• The sale on North Broad Street is set for March 22.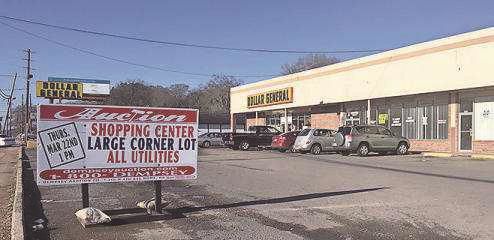 An entire strip shopping center on North Broad Street will be for sale at an auction March 22. Dempsey Auction of Rome will handle the sale of the property at 1431 N. Broad St.
The property was purchased by North Broad Street LLC in 1986 for $463,000. The land itself was most recently valued at $133,700 while the buildings on the tract were valued at $531,090.
The center will have a large vacancy when Dollar General vacates for a new store two blocks further up the road later this spring. In fact, only three of the other nine spaces are currently occupied. Tom Lindsey, a representative with Dempsey Auction, said he believes the North Rome corridor will be one of the next to experience real growth in Rome and anticipates the opportunity for solid commercial rental incomes is great at the location.
Lindsey said the ownership group has a lot of convenience stores and truck stops from Georgia to Texas.
"They're just ready to sell it and move on," Lindsey said. "It's not going to be an absolute auction, I really wish it was, but we're just going to put it up and see what it brings."
Not being an absolute auction means the owners could reject the high bid if it does not meet their desired price.
"They are going to offer owner-financing," Lindsey said.
Dempsey Auction personnel will be on site March 21 from noon until 4 p.m. for inspections of the site. Interested parties can get additional information from www.dempseyauction.com.
"The manufacturers aggressively promoted and pushed highly addictive, dangerous opioids, falsely representing to doctors that patients would rarely succumb to drug addiction. ... turning patients into drug addicts for their own corporate profit," the suit reads.
It also contends that the major distributors knew the number of prescriptions was skyrocketing — in some cases, including Floyd, to more than one for every single resident in the county.
"The distributors and manufacturers intentionally and/or unlawfully breached their legal duties under federal and state law to monitor, detect, investigate, refuse, and report suspicious orders of prescription opioids," it states.
The lawsuit contends, and local officials agree, that the cities and counties have incurred direct damages from the costs of providing medical care for residents who are addicted, overdose or die.
It also cites costs for rehabilitation and counseling, treatment of babies born addicted, law enforcement and public safety activities, and care for children whose parents "suffer from opioid-related disability or incapacitation."
Purdue Pharma, makers of Oxy- Contin, is the first-named defendant in the suit. It notes that national annual sales of the painkiller rose from $800 million in 2006 to more than $2 billion from 2009 onward.
Other named manufacturers and distributors are cited as seeing similar, medically unwarranted, increases in sales, with some settling other complaints accusing them of illegal marketing tactics under the law.
"Europe's use of opioid pain medication is flat, while use in the United States shows a steep increase," Finnell told Floyd County commissioners. "This is a very recent phenomenon here."
The suit is asking the court to halt the companies' "unfair or deceptive practices" and order them to abate the public health crisis.
It's seeking compensation for the plaintiffs' actual costs of dealing with the epidemic locally, including interest; the establishment of an "abatement trust fund" similar to that in the tobacco company settlement; punitive damages; attorneys' fees; and "all other relief as provided by law and/or as the Court deems appropriate and just."