• More felony charges are filed as more women come forward.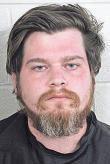 A judge denied bond to a former Rome filmmaker after hearing allegations of how he repeatedly abused multiple women over a 14-year period of time.
Senior Judge Walter Matthews described patterns of abuse as "insidious" and "manipulative" prior to denying bond for 30-year-old Eliot Ryan Rutledge.
Previously denied bond following his April 12 arrest, Rutledge had filed a motion in Floyd County Superior Court for reconsideration.
Rutledge is now facing felony charges from three women, and allegations of abuse from five other women were presented to the court as similar transaction evidence.
At this point, Rome Police Department detective Corey Bowers testified eight women have stepped forward to police with evidence including recordings of Rutledge as he attacked them, Bowers said. He beat and choked several of the women, Bowers said. He wouldn't let them leave their homes and in some of the older allegations — of which he doesn't face charges — he reportedly sexually assaulted at least one of the women several times.
At one point Rutledge attempted to justify slamming a woman's head into a door frame, causing her to almost black out, by saying "he was tired of being ignored," Bowers said. At another point he video recorded a woman cowering in the corner and mocked her with derogatory comments.
Bowers also testified police uncovered a "very large collection" of messages between Rutledge and several of the women describing the violence and subsequent apologies.
"All of these women are terrified of him," Assistant District Attorney Natalee Staats told the judge. She said one of the women was diagnosed with post traumatic stress disorder because of the abuse.
His charges include felony aggravated assault, false imprisonment, second-degree damage to property as well as misdemeanor battery, simple battery and disorderly conduct.
Some of the incidents could not be prosecuted locally because they went beyond the range of the statute of limitations or took place in other jurisdictions. One woman said she met and was abused by Rutledge while at film school in San Francisco, Bowers said. He was also known in Rome for roles in local theater and film productions.
Rutledge used similar patterns of physical and emotional abuse to control and manipulate his victims, she said. "This behavior has been going on, as best I can tell, has been going back 14 years," Staats told the court.