• Rome and Floyd County officials are weighing options following voter approval of a new package of projects.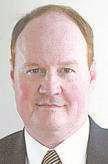 Rome and Floyd County commissioners will likely take the next few months to prioritize the order of their 2017 SPLOST projects.
"Everyone wants their project to be first, but the reality is how we're going to pay for things," City Manager Sammy Rich said Monday. There are 25 projects in the special purpose, local option sales tax package voters approved in November, with a total cost of $63.8 million.
However, revenue will still be going into the 2013 SPLOST account until April 2019. Collections, when they start, are estimated to be a little over $1 million a month, and it will be March 2024 before all the money for the 2017 package has rolled in.
Assistant County Manager Gary Burkhalter said it would be possible to do some small projects early via a reimbursement resolution. That would allow the board to draw on the county's savings account and repay the money when SPLOST revenue is collected.
The ballot question also included the option of selling bonds backed by the SPLOST proceeds — although that would add attorney's fees, interest and other costs to the bottom line.
"We could issue bonds with the city or on our own, or do none," County Manager Jamie McCord told commissioners in a briefing last week. "I'd recommend cash-flowing most of them."
Most of the work is unlikely to get underway for at least a year and a half, but officials want to have a game plan ready by then.
Plans are for the members of each board to discuss their needs separately at first. McCord and Rich have been meeting regularly to share their directives and will continue their sessions.
There's also a joint services committee meeting tentatively scheduled for Dec. 5. That's when two representatives each from the city and county boards, plus their top administrators, go over initiatives they're both working on.
County Commission Chair Rhonda Wallace said it's not always cheaper to wait until the cash is in hand when you're looking so far into the future. Interest rates are still low.
"If we could move within the next two years, that's good, but the cost of construction is increasing," she said. "We need to look at the cost of bonds compared to the increase in cost."
Also, some projects could be cheaper if they're done at the same time, Commissioner Scotty Hancock pointed out, using as an example the two phases of the jail medical expansion.
But Commissioner Larry Maxey said people put off purchases in recent years, so the rebounding economy makes it a sellers' market.
"Right now, our cost for construction is higher than it's going to be," he predicted.
The first step, Rich and McCord agree, is to take a serious look at financial forecasts. McCord also is drawing up a 5-year cashflow plan that will estimate how much SPLOST money they'll have in the bank each month to pay for projects.
"By going through it with the commissions to determine their priorities, then plugging that into the cashflow, it will help answer the question of bonds," Rich said. Other considerations that could be weighed, he said, include the potential boost to the local economy from hiring contractors — and the public's appetite for waiting.
"So, there are pros and cons," Rich said.
'If we could move within the next two years, that's good, but the cost of construction is increasing. We need to look at the cost of bonds compared to the increase in cost.'
Rhonda Wallace
County Commission Chair
SPECIAL PURPOSE, LOCAL OPTION SALES TAX PROPOSAL
The SPLOST Citizens Advisory Committee put together a $63,881,680 package of projects for funding through an extension of the current 1-cent special purpose local option sales tax. Voters approved the projects in the Nov. 7 countywide election, and collections will start April 1, 2019, and run for five years, through March 31, 2024.
• Agricultural Center, $8,000,000
• Cave Spring sewer improvements, $1,281,000
• Upgrades to the 911 Center, $257,000
• Recreation, $2,026,600
• Prison security upgrades, $2,705,000
• East Central secondary access, $395,000
• Rome public works, $5,000,000
• Public safety facility and equipment $4,400,000
• Historic Courthouse renovations, $5,000,000
• Roads and bridges, $4,500,000
• Texas Valley water line extension, $2,500,000
• Jail medical facility Phase II, $5,200,000
• North Broad Youth Center recreation, $600,000
• Silver Creek Trail extension to Lindale, $1,180,000
• Waterways, $3,639,500
• Land for economic development, $3,110,000
• Fifth Avenue River District streetscape, $2,000,000
• County capital equipment and vehicles, $3,400,000
• County public works facility, $2,450,000
• Airport corporate hangar, $899,210
• State Mutual Stadium improvements, $2,000,000
• Public safety technology, $415,170
• Barron Stadium improvements, $825,000
• Special operations equipment, $248,200
• Rome water system improvements, $1,750,000
• Administrative costs, $100,000