• As his final Eagle project, a senior builds a tool for learning the elements, donating it to CHS.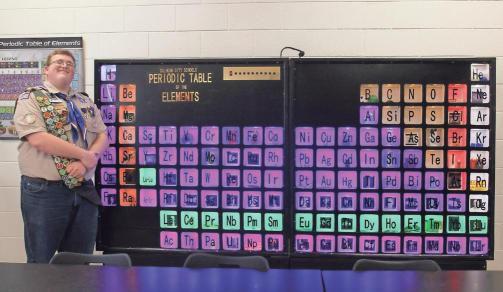 In a Calhoun High School science classroom is a demonstration of a periodic table. But this one isn't a poster on a wall or a picture in a text book – it's a portable 3-D chart with black lights and examples of what each element creates.
This chart was made by Eagle Scout Patrick Gilreath as part of a leadership project he had to complete in order to gain the highest rank a Scout can earn. And while other scouts were creating picnic tables for parks or cleaning grave sites, Gilreath, of Boy Scout Troop 22, was circuiting, constructing and connecting his project to science, his favorite subject in school.
"When I was in middle school, I saw the wall-sized periodic table of the elements at the Tellus Science Museum and knew I wanted to build something like that for my Eagle project," Gilreath said.
Since he was 6 years old, the Calhoun senior was involved with the scouting organization, and when he was 11, he moved from Cub Scouts to Boy Scouts, and has been considering what to do for his Eagle Scout project since he was in middle school.
According to Gilreath, the requirements of the project don't necessarily require the Scout to do everything, but to be a leader, delegate tasks and fundraise. Fortunately, Gilreath was sponsored by Calhoun City Schools for a majority of his project, and he also had a lot of help with the actual work of the assignment.
"My dad helped with the electronics because he's done all sorts of wiring," Gilreath said. "And I had a lot of people from Scouts helping me and some leaders helping."
Gilreath said he chose this project because of his love for science. He said his goal was to help other students better understand how elements can create objects people use on a regular basis through a visual demonstration.
As the main man behind the curtain, Gilreath's role included preparing the budget, gathering equipment and necessary tools, directing people to help in specific ways, and finding financial support for the project.
"With over 1,400 LEDs, over 500 feet of wire, an item representing each element in each of the 118 cubby-holes and over 600 screws," said a press release from the Boy Scout Troop 22, "the table allows the teacher to focus on an individual element or highlight various groupings of elements."
The table, which stands almost 6 feet tall and 10 feet long, stands on wheels and is able to be displayed in a classroom or travel down the hallway to assist a number of teachers.
When it was first delivered to Calhoun High School, the learning tool was displayed in the lobby, where Gilreath saw students and teachers looking at it, seeming to be interested in what took him nearly seven months to build.
"You see the periodic table on the wall there that's blank," Gilreath said, pointing to a colorless poster on the wall in a chemistry classroom. "This one is easier to remember all the elements, the buttons control the lights and you can focus on a singular group for teaching."
Gilreath's hard work for this project, his dedication to the scouting organization and his ranking as an Eagle Scout were each recognized at the Calhoun Board of Education meeting April 22, where Superintendent Michele Taylor and other board members expressed their gratitude for Gilreath's commitment to the school.
Being a part of the scouting organization for over 10 years now, Gilreath said he has learned some valuable skills he will take with him for the rest of his life – such as cooking, gardening, public speaking and personal management.
Gilreath is planning to go to Kennesaw State University in the fall and study graphic design and animation. He said his Eagle project is a testament to his passion for art and design.