• Reports say the suspect, who is facing a long list of charges, fled at more than 100 mph.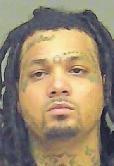 What began as a routine traffic stop on Sunday resulted in a police chase that did not end until Calhoun Police Department officers used "stop sticks" to deflate the tires of the fleeing vehicle, causing the suspect, who was wanted in another state, to crash.
The driver, Terrell McNeill, 28, of 3252 Shamrock Drive in Fayetteville, North Carolina, now faces a litany of charges.
According to CPD reports, an officer pulled over McNeill late Sunday after he made a left turn off of Wall Street, nearly causing a wreck. There was also an adult passenger and two children inside the vehicle.
McNeill told the officer he did not have a driver's license, and dispatch informed another officer the white Buick Lesabre with a paper drive off tag that McNeill was driving had been reported stolen.
When officers asked McNeill to turn off the vehicle he instead pulled off and accelerated north on King Street. Police say McNeill then ran
the stop sign at King and West Line streets, turning left onto West Line Street. He then ran a red light at West Line and River streets, speeding west on Highway 156.
Reports say the Buick was all over the road, passing cars and exceeding more than 100 mph. The chase came to an end near Beamer Road after an officer deployed "stop sticks," a tool intended to puncture and deflate tires. After McNeill ran over the sticks he drove a few hundred feet and tried to turn into a driveway but crashed into a ditch instead. McNeill then fled into the nearby woods.
Officers found and arrested McNeill. They later discovered he had felony warrants in another state. They also found a drive off tag that had been reported stolen from the Walmart earlier in the day. McNeill was charged with felony obstruction, cruelty to children in the first degree, fleeing or attempting to elude, possession of a stolen vehicle, suspended license, failure to yield while turning left, failure to stop at a stop sign, running a red light, theft by receiving stolen property, failure to maintain lane, theft by bringing stolen property into the state and fugitive from justice.
The adult passenger and two children were unharmed during the chase and a police officer gave them a ride to a local hotel where they were staying.