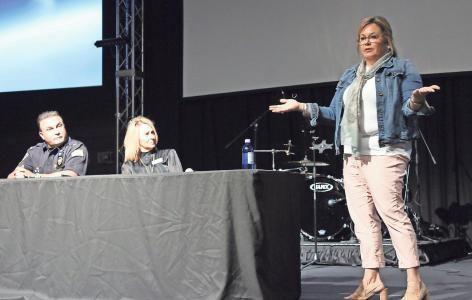 Calhoun Police Chief Tony Pyle said he fears it's only a matter of time before the fentanyl overdose epidemic that is plaguing much of the United States makes its way to Calhoun.
"I hope I'm wrong, but I think we'll start seeing it," Pyle said Wednesday during the Gordon County Chamber of Commerce's Lunch and Learn event, the theme of which was Educating Workforce on Drug Addiction. "It's going to be everywhere."
The police chief pointed out that the number of the number of drug overdose deaths in the country has risen steadily and that the number of deaths in 2017 — 70,237, according to Department of Health and Human Services — would be enough to wipe out the entire population of Calhoun and Gordon County combined.
Pyle said drug dealers use fentanyl, which is a synthetic opioid pain reliever, to cut their supplies of other, more common drugs like heroin, cocaine and methamphetamine. The problem is, he said, that users don't know the highly addictive and dangerous fentanyl is in their drugs, so it becomes easy for users to overdose.
He said about 65 percent of overdoses in the U.S. were related to opioid use and, while that hasn't been a problem in Calhoun or Gordon County yet, he believes it will be eventually.
"It's a supply and demand issue," he said, "and it's a higher profit for drug dealers."
He compared it to the crack cocaine epidemic in the late 1980s and early '90s in that that drug was only a problem in the major cities for a while, but eventually spread everywhere else.
Pyle said his department's officers, including the K9 units, have already been supplied with Narcan, a drug that can temporarily stop an overdose until a user can be treated by medical professionals.
AdventHealth Gordon's Director of Community and Physician Outreach Tracy Farriba also addressed the crowd during the event, speaking specifically about vaping and her efforts to educate local students about the dangers of the increasingly popular devices.
Farriba told the story of one local 17-year-old who approach her after a presentation at his school and told her how he had been diagnosed with a severe lung infection after a weekend of near nonstop vaping. She said the teen told her that he didn't he know why he had done it, but he did know that something wasn't right with his body.
Two days later he woke up with a sore throat and bad cough and went to the doctor, then was sent to a lung specialist after the infection was discovered.
"He said, 'I want you to tell the students and the people you talk to that it really can happen to you,'" Farriba said, who noted that seven teens in Georgia have died from vape-related illnesses.
She said one of the main problems with vaping is that there is no good way to know exactly what is contained in the oils or juice the devices use and that illegal drugs are often used in much higher concentrations than they would be in more typical methods.
Farriba said one local student used a vape device with THC — the active chemical in marijuana — at school before collapsing to the floor and requiring medical care. The student was then arrested for possessing the illegal drug.
She said there have been instances of middle school and even elementary school students admitting to using vape products locally.
"It's real. It's a problem. And we're seeing it," Farriba said.
She also noted that the content of the vape products isn't the only danger, as there have been multiple incidents of devices catching fire or exploding. She show photos of one teen with burns on his lips, check and nose, another of an adult with a severely burned tongue and lips, and another of a teen in intensive care after a device exploded, causing damage to his airway.
She also pointed out that medical professionals have seen an increase in "popcorn lung" cases, when hard nodules form in the lung, as a side effect of the chemicals associated with vape use.
Farriba said her main goal is education, and that she wants to teach students that not only are the known and unknown chemicals used in the devices dangerous now, but they can affect young users in the long run too because the human brain is still developing during one's school years.
"What you're doing now, what you're doing to your body, it will affect your future," she said.
Ansley Silvers, director of addictive disease at Highland Rivers Health, also spoke during the lunch, and she explained that by the time she interacts with anyone they are already in the later stages of addiction.
Silvers explained that while people make choices that lead to addiction, no one chooses that outcome or uses a substance with that as the end goal. She referenced how prohibition of alcohol led to bootleggers making their own booze, an increased demand and an increase in alcoholism and deaths.
Silvers said substance abuse has always been a problem, that opioids and vaping are just the latest thing.
"It's always going to be something, because what we're dealing with isn't chemicals, it's the brain," she said.
She explained that brain development and drug use follow a similar upward trend in teenagers as they get older, and for addicts, that the brain eventually flips a switch and decides getting that next fix is more important than anything else.
Silvers lamented the stigma often associated with addiction and said people shouldn't be looked down upon for seeking treatment.
On the dangers of teenage drug use, Silvers shared the story of her son Alex's best friend Ben, a bright young man who had a full ride college scholarship and a good job working in information technology.
Alex and Ben had made some money investing in bitcoin and had ordered online a drug called U-47700 that was then shipped to their door in an Amazon box. The synthetic opioid was legal at the time but has since been added to the list of Schedule 1 drugs.
"They both took one. My son lived and Ben died," Silvers said, adding that Alex continues to live with the guilt.
She also talked about a rash of incidents in an Elijay high school where 17 students required treatment after vaping a synthetic marijuana-type drug, one of which passed out, then tried to ripped out his own tongue after regain consciousness.
Silvers stressed that help is available and that people shouldn't be afraid to seek it. She talked about the services Highland Rivers Health offers and noted that if someone doesn't qualify for assistance there that they use their contacts to make sure the person is served elsewhere.
"What I want to say is, there is help, and there is free help for those who qualify," said Silvers.
She said recovery is possible, but like cancer treatments, there is always a chance that the problem will return. But, she said, she would rather see someone seeking help a second time than learn they had died or been sent to prison.