• David and Melissa Falls explain the history behind their new antique store.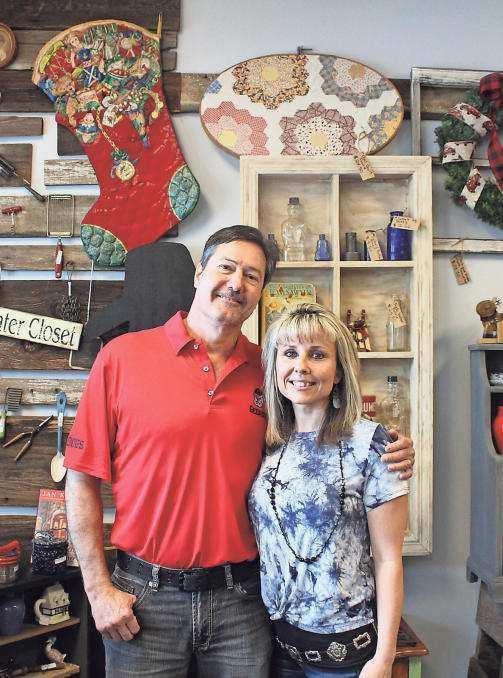 When David Falls' father passed away in 1995, David promised he would take care of his mother, Lydia Falls, and help her with her new antique mall that she had only opened up a year earlier.
Soon after, he moved from Chattanooga to his hometown of Calhoun in order to keep that promise. David didn't know that transition would eventually lead him to open his own estate business and an antique store with his future wife, Melissa Falls.
He wasn't interested in the business at first, but with time, David found himself fascinated with products, their history and the process in which they were manufactured. Over the first few years David worked as the store manager. He slowly got more captivated with product research and took over a few booths to display his new collections of trucks, metal toys and Coca-Cola antiques.
"I needed to know what stuff was worth, so I started studying," David said. "I studied marbles, cast iron, different kinds of pottery. You have to know just enough not to get burned."
After 10 years of working for his mother, he opened up his own estate sales and auction business, still working part time at the antique mall. When Lydia retired and sold her business, David decided to go full time into his estate sales. And when David and Melissa began to look for office space for his already established company, they decided to open their own antique store in addition to their estate business.
At 609 N. Wall St, the Falls' new store, Perfectly Imperfect Antiques, is now open for business. The store opened in November, and has refurbished and repurposed pottery, ceramics, quilts, furniture and tables on display.
"All antiques have stories and little marks that tell you where it came from," Melissa said. "They all have their stories and little imperfections. That's where our name comes from."
David says they both enjoy discovering the history behind some of the objects they repurpose. Over his years of experience working with antiques, he has collected hundreds of reference books in order to better understand a product or company.
"We focus on unique items and repurpose those," said David. "I learned years ago how to repair things and make something that looked like crap and turn it into $100."
David said working with Melissa over the past couple of years has been great and that they make a good team together. David said his wife of three years has a better creative eye, and he is more gifted at working with his hands to make new pieces. And even though the task of shopping at estate sales, facilitating such sales and auctions, repurposing objects and running the antique store might seem like a lot to juggle, both of them agree that what keeps them going is their love for their work.
"We probably don't make a killing doing it, but we enjoy it so it's not like it's work," Melissa said. "We can be out working and laughing and cutting up and the kids are riding their bicycles around the building. It's family time for us, and the kids will come and help sometimes."
With their estate business, the Falls have sold Ford Model T vehicles, a Ford Mustang, high-end glass and porcelain, and even recently a Picasso lithograph. They also pride themselves on only hiring family and longterm friends to work at their store or at auctions, which they say makes the business more comfortable and welcoming.
The Falls are excited to host their first Christmas party at their Wall Street business on Saturday, from 11 a.m. to 4 p.m. At the party, children can write out their wish lists, visit with Santa, get a candy cane and potentially even win a free toy. This is the first big event that the new antique store will be hosting, and David and Melissa foresee this Christmas party continuing for years to come.