• "Peter Pan" brings in 10 nominations for the Calhoun High drama department.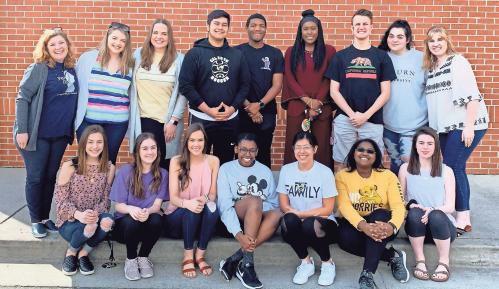 Calhoun High School's performing arts program was nominated for 10 Shuler awards following their production of "Peter Pan: The Musical," including notable student nominations.
The Georgia High School Musical Theater Awards-Shuler Hensley Awards were founded to mimic Broadway's Tony Awards, but specifically for high school theater performances. The awards are named in honor of actor, singer and Georgia native Shuler Hensley and are open to all high schools in the state.
While this award show is highly competitive and has brought many schools' drama departments into the spotlight, this isn't Calhoun's first time being nominated.
In the past, Calhoun High has received nominations for previous productions of "Bring It On: The Musical," "Hello Dolly," "Sweeney Todd" and "Oklahoma!"
This is, however, Calhoun's first time having four student nominations, which were awarded to Riley Anderson for music direction, Kathryn Stockman for choreography, Ryleigh Roberts Ledford for best performance by a leading actress and Matthew McCanless for best performance by a supporting actor.
And not only were four students chosen as nominees, but so were high school staff members – Julie Leggett for direction, Darlene Wright for music direction and India Galyean for lighting design.
Shuler awards
"It feels like everything we did paid off," said Anderson regarding the nominations the production received. Anderson helped Wright with music direction and ended up receiving a nomination alongside Wright even though it was his first time assisting with music.
According to Leggett, in the past the program has hired out music directors or choreographers, who weren't always able come to every rehearsal. This year was their first time recruiting students to help with choreography and music direction, and per the number of nominations, it worked out to the production's benefit.
Many of the students in the production were also involved in other activities, such as chorus, the literary team, athletics and working part-time jobs.
Yet, despite crazy schedules and little sleep, the cast, crew and directors were dedicated to the success of the production, learning how to "fly" and dedicating hours to rehearsing and learning choreography.
When the time finally came for rehearsals to shift into performances with live audiences, the cast and crew were ready. Yet, to be officially a part of the Shuler Awards, they had to welcome some figures that might have intimidated the actors.
"(The Shuler Hensley Awards) have a panel of adjudicators they send across the state to see these different shows," Leggett said. "We have a panel of adjudicators (in our audience) that are highly qualified theater professionals to scale us on a rubric."
Though Calhoun's production of "Peter Pan: The Musical" wasn't necessarily judged against other schools since adjudicators vary per region, they were still scored on a competitive scale since receiving nominations is no easy accomplishment.
"There are 75 schools in the state (that compete) and only five schools get nominated for each category," Anderson said. "For us to have as many nominations as we have, I think it says something about the program, about its dexterity and strength."
The students all worked so hard, said Campbell Govignon, and seeing some of her friends nominated for awards was a special experience for her.
Megan Wright, who played Wendy and is involved in many aspects of the drama department, said this show was one of her favorites, commenting that the many student authority figures created a peaceful performing experience.
"Overall I think it definitely proved that we can do a monster of a show and have people flying and doing somersaults on stage. ... Our program can do anything if we unite together," said Jahlaynia Winters, a senior in the drama department.
In addition to the nominations already mentioned, Calhoun's program was also nominated for ensemble, scenic design (Robin Proffitt and Johnathan Elakman) and overall production, as well as having an honorable mention for Galyean in regards to costumes.
The statewide awards show will be televised live on GBP on April 18, where the Calhoun cast, crew and directors will travel to Atlanta's Cobb Energy Performing Arts Center to receive the final results.
Ledford, who starred as Peter, will compete for the chance to go to the national award show in New York City, called the Jimmy Awards, according to Leggett. If Ledford wins the leading actress award for the state, she will continue to the Jimmys.
A positive influence
When asked how the performing arts program at the high school impacted students' educational experience, the cast unanimously said the program had been a positive influence in their lives. Several even said because of their time in the department, they would be continuing to pursue careers in acting and performing.
"For me, I know Campbell, Haley and I all cheered together freshman year," Sophia Talley said. "If we had never quit cheer and joined drama, it would be a completely different experience. It's been the best high school experience."
Caroline Leggett, who acted as Captain Hook, said theater is her home, explaining how everyone came together and encouraged each other through lengthy rehearsals. She recalled how the cast and crew would stay at the auditorium eating pizza and talking to each other on the stage long after rehearsals had ended.
"There's no way not to bond during that," Caroline Leggett said.
Anne Fogle Jones said theater has taught her how to work well with others. She said she's learned how to present herself to others, how to be more confident in herself and who she wants to be. Other students agreed with Jones' comments, saying being a part of theater has helped them discover who they are.
A few seniors in the program said theater has influenced more than just their high school career, but their future occupations.
Deyonna Jackson is going to Savannah State University for musical theater. Winters and Ledford are both going to Young Harris College, also for the theater program. Each of them said their experiences in the drama department shifted their perspectives of themselves and positively changed how they interact with others.
"Theater has taught me a lot and I think it's been the most memorable year of my entire life," Winters said, tearing up as she recalled how the program had influenced her. "I love these people so much and I have no doubts about my life in theater. No matter what I do I feel fully prepared and I will continue to dare greatly for the rest of my life."
"Dare greatly" is a phrase many of the students said the performing arts program used to inspire their actors, singers and performers. Winters said it was going to be her motto for a long time.
And when asked how it felt being part of a program that had so much of an influence on high school students, Leggett said that's what it meant to be a teacher.
"We try to give them a safe environment and a place to have friends and to have a home," Leggett said. "We also want to teach them about excellence and how to be prepared for the next challenges in life. Hopefully, we're doing those things together."
Students clapped for Leggett and the other directors following her comments, saying they wouldn't have learned how to dare greatly without the help of her, Galyean and Wright.
"If drama did not exist at CHS, I guarantee you a lot of the people that are friends now would have never met," Anderson said. "This department has shown so much love to every person in it and I think that just makes it special."