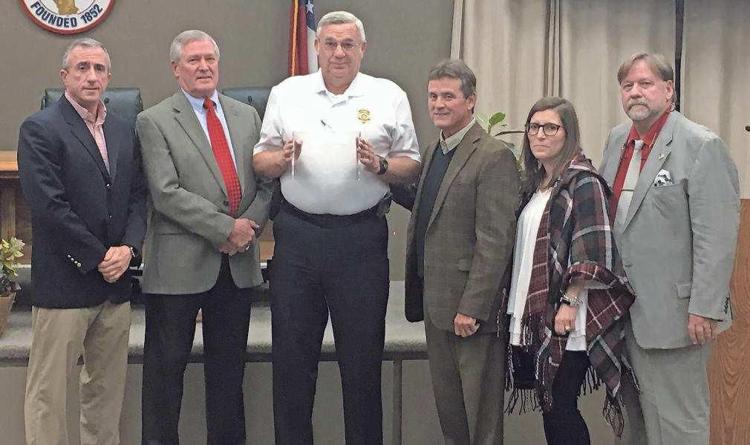 The Calhoun Police Department has recently been awarded the Mountain Area Traffic Enforcement Network (MATEN) Agency of the Year Award for 2017 for the Northwest Georgia area. The Calhoun City Council recognized them at Monday night's meeting.
"It is my honor and privilege to recognize our police department," said Councilman Al Edwards. "This (award) was based on the department receiving the Governor's Cup, along with the departments dedication and participation in all events that include road checks, monthly meetings and child safety events that are sponsored by the Mountain Area Traffic Enforcement Network."
MATEN is a division under the Governor's Office of Highway Safety (GOHS). There are 16 total MATEN traffic enforcement network areas across the state that help enforce Georgia's year-round safety belt, speed and impaired driving campaigns. The MATEN Northwest Georgia area includes Whitfield, Catoosa, Dade, Walker, Murray, Gordon, Bartow, Floyd, Polk and Chattooga Counties.
The Calhoun Police Department was recognized in April at the 17th annual Governor's Office of Highway Safety Challenge Awards, where in Category 3 for departments of 26-50 officers, the CPD was awarded the Governor's Cup, an awards program is designed to highlight outstanding achievements in highway safety enforcement and education, and agencies are graded upon their approach and effectiveness of their overall highway
safety programs. Points are given for policy, training, recognition, public information activities, enforcement and effectiveness of operations.
"We certainly congratulate the department on their efforts and what they do for our community," said Calhoun Mayor Jimmy Palmer. "We are always proud to say this is a safe community and we are proud of all the officers and the work that they do."
After the recognition, Councilman David Hammond spoke publicly concerning the recent non-binding vote on the General Municipal ballot concerning term limits for public officials and expanding the Council from four members to six members.
"I've enjoyed talking with you this year about term limits and expanding the Council," said Hammond. "We talked for about four or five meetings about how important that was. I know there are differences of opinion, but I thoroughly enjoy debating difference of opinion."
With only 1194 votes cast during the General Municipal Election earlier this month in the City of Calhoun, the nonbinding vote for term limits for the Mayor and City Council members passed with 707 votes with the non-binding vote to add two more members to the council, taking it from a four member council to a six member council, passed with just 576 votes.
Hammond explained the talks began in 2016 but the Council could not get the process going in time for the presidential election that year. "We got it placed on (this year's) ballot," said Hammond. "There wasn't a lot of turnout, but there were voters who voted and let their wishes be known. This Council voted last week unanimously, and all four of us signed the resolution to pass it on to the (State) House, for their placement of the floor meeting to debate (City of Calhoun) Charter changes. I know Jimmy (Palmer) did not sign the resolution; he has strong feelings about the changes and expressed them all year long. My understanding, after (council member) Jackie Palazzolo asked (State Representative) John Meadows (R Calhoun, District 5) what his opinion was and that John is not going to take it to the floor; and
(State Representative) Rick Jasperse (R Jasper, District 11, which includes the eastern side of Gordon County) is not going to take it to the floor, even though it was voted on by the people and passed. Now that's fine, that's their right. It was a non-binding vote. But I hope in America we can start turning the page and get to the point where we really value the voters.
"Jimmy always talks about how he would love for you to call and offer your opinion," said Hammond. "If you are out there in the community, I encourage you to call, not only Jimmy, but everybody here on the Council; George Crowley, who serves in our community and will be serving on this Council; and Alvin Long and Mitchell Ray Denmon (who are in a runoff for Post 4). Express your opinion. Challenge these people to step up and honor the wishes of the voter. Let's move forward, let's be honorable, let's challenge these leaders to step up and do what they are supposed to do. I do encourage everybody to make their voices and opinions known."
Palmer then corrected Hammond on his facts concerning the resolution. "I do appreciate that, and he is correct, I did not sign the resolution," said Palmer. "As Councilman Hammond stated, it was a four-member vote, so it was not necessary for me to sign (the resolution). What happens with that is, that I have a certain period of time to sign it and if I don't sign in within that period of time, it automatically passes as an approval (due to unanimous vote). I chose not to veto it and I chose not to sign the resolution. At the same time, I think some of the reasoning behind that needs to be looked at. Part of that reasoning is when (talks) first began, we had some opinions from the City attorney; he said that the question (on the ballot) was not correctly stated, that there was some possible legal technicalities in (the question) and he had problems with the question and he urged the Council to do it in a different way. It was not accepted (by the Council) at that time. (The City attorney) also spoke with (director of Gordon County election) Shea Hicks as well as the Superior Court judge, who also agreed with (the attorney's) recommendations and suggestions. Like Councilman Hammond said, even though it was a non-binding issue, it was just a vote of opinion from the public. Even though it was not required, it appeared in the minutes there were going to be public hearings (concerning the ballot questions) and none were held. Councilman Hammond said that if the public voted for this by 62 percent or greater, then he would advocate for it and another council member used a higher percentage, I believe that being 80 to 85 percent. It did not get the 62 percent that was mentioned at one time. I also point out, it was approximately just 14 to 15 percent voter turnout. I felt like, in looking at it, I didn't raise an issue about it, I just think with all things considered, it wasn't necessary for me to sign it and I chose not to. But it still went through as approved."
"I'd like to add one thing to that; I didn't have a prepared statement," explained Hammond. "It just came from the heart and the head. The one thing I would like to note, it's interesting that those not in favor of term limits are 30-year plus elected officials past the age of 65. All the people advocating it was less than 12 years (in service), except for myself at 13 and a half (year), but I volunteered to step down, because it's time for others to step up. We did not, when we created this country, create lifetime positions in politics.
"If you are tired of power politics, if you are tired of career politicians, it will take phone call after phone call after phone call to Representative Meadows, to Representative Rick Jasperse and Mayor Palmer. I know we didn't have a lot turn out (for the election) but I can't control that."
A call to Rep. John Meadows on Tuesday morning clarified the situation from his side, with him stating that the first time he had been contacted by the Council about this issue was last week. "I haven't been involved in any of the conversation (with the Council concerning the issue)," said Rep. Meadows. Meadows stated that after receiving an email from council member Jackie Palazzolo on Wednesday of last week, he reached out to her by phone call. He said he also spoke with City Attorney George Govignon, who told Meadows that there were some concerns over legalities of the way the ballot was presented to the voters. "I would be very reluctant to put something out on the floor of the House that I have been told has legal problems," said Meadows.
In other Council news, a second reading of an annexation and zoning request of C-2 for 1.33 acres at a location of parcel number GC-57066, Highway 53 by William Jenson of Jetz Foods LLC was held. The Zoning Advisory Board meeting will be held Dec. 7 with a public hearing on Dec. 11.
A second reading of a side set back variance request of 12 feet, to reduce the minimum distance from 20 feet to 8 feet at 170 Fred Hurley Road by Jason Everts was held. The ZAB will meet on Dec. 7 with a public hearing on Dec. 11.
An Alcohol Manager Change request by the Harris Arts Center from prior manager Toni Molleson to Jennifer Dudley was approved by the Council.
City Administrator Eddie Peterson gave a cash report through the month of October to the Council. The Council approved the cash report.
The next meeting of the Calhoun City Council will be held at 7 p.m. on Monday, Dec. 11, 2017 at the Depot in downtown Calhoun.