• Joe Raburn, who served 35 years in the Army, shares how the American Legion has given him a continued purpose.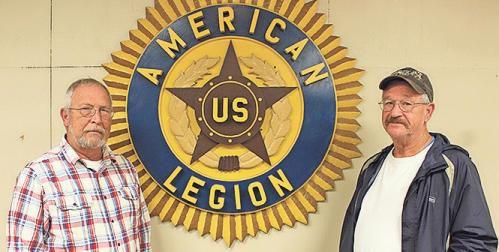 Joe Raburn pulled a red Pall Mall cigarette from the box, lit it and put the lighter back on the table beside his coffee, while sitting inside what was a steadily filling up American Legion Post 47 on this Wednesday afternoon.
In between sharing the stories of his past and offering takes on the changes he has seen over the years, he greeted the familiar faces, standing up to shake their hands or give them a hug. It is this place and its people who welcomed him five years ago as a brother and piece of the military fabric of this community and nation.
Raburn recalled the time he first walked into the post. Not one person knew his name, he said. But when he returned, "it was like a family reunion," he explained.
After leaving the U.S. Army in 2010, following his 35-year service, 25 of which as a member of the Special Forces, Raburn entered back into civilian life. But he was not the same person as that young man who joined the military to fulfill his lifelong dream to serve a higher purpose for his nation, he said.
"You change and you don't see it," said Raburn of combat veterans like him. "You're not aware of it and you don't know it."
Raburn — who served two tours each in Bosnia, Iraq and Afghanistan — said that to acclimate after these combat experiences its natural for veterans to be attracted to those most like them, the ones who can understand how that change below the surface affects them. The Legion offered that for him, just like it does for veterans across the nation, fulfilling the void of that higher purpose once he left the Army, he said.
"It gives you an opportunity to serve still," said Raburn, rattling off all of the organizations who benefit from the Legion's efforts, such as the Coulter-Hampton Foundation, Gordon County Special Olympics, all three local high schools, JROTC, the Red Cross and the Legacy Fund.
Continuing to serve through the Legion offers a different feeling for Raburn and his fellow members, said the former post commander and current executive board member. When one contributes to the protection of America, this higher purpose and the impact one has in serving it is not always easily realizable or seen. But with the Legion's work, the local lives affected by its actions are clear and visible, he explained, from the kids receiving a Christmas gift through the toy drive or the local high school students accepting scholarships to further their education.
"If its legally and morally possible, then we'll do it," Raburn said of helping out veterans, active military members and their families among others, laughing that there's a scale of 1 to 10 used to determine whether to do it or not — One means its easy to do, while 10 may lead to needing a lawyer.
His service
Raburn graduated from Dalton High School in 1972, joining the Army infantry three years later. He said that he would have been in the last draft in the U.S., but with some advice from veterans — who told him that he if joined he wouldn't have to serve the additional year required of those who were drafted — he made his own decision about his future. In his second year, he recalled all the news stations reporting on the last military member drafted leaving service, and he found himself a member of what was for the first time an all volunteer military.
From his earliest childhood memories, Raburn said he knew he would be in the military, he just didn't know which branch. And after 10 years in the infantry, he was selected to Army Special Forces, something he knew nothing about, he said. He had friends who were part of the force but even then they did not talk about what they did.
Raburn remembers when he got the news of his selection. He was standing in formation one morning at Fort Bragg in North Carolina when his first sergeant called him out, directing him to go to his office. It was there where the commander and first sergeant informed him, offering him praise.
"I went anywhere I was told to go," he said, doing a little bit of everything. "The average person doesn't understand that soldier down range."
Coming out of the anti-war sentiment of the Vietnam War, Raburn can still recall how it lingered in his country even after the war ended.
"No GIs and no dogs," he remembers seeing outside one business. "If you were in the military, they were looking down on you."
The sentiment worried him, especially for how it permeated into the lives of family members who had loved ones in the armed forces.
"The general public really has short memories," said Raburn, reflecting on the ebbs and flows of public opinion about the military, as patriotism surges at moments to only be tapered down shortly thereafter. "You only hear about it when things are bad."
Just like car insurance, the military is only thought about when it is needed, fading off into the depths of the public consciousness when it is not, though it is always there, Raburn said.
Raburn is frequently asked why he stayed in the Army so long. "It's because I liked what I was doing. I felt that I was serving a purpose greater than myself," he said. "If not me, who? Are you gonna send you're child to replace me?"
In 1987, Raburn switched into a leadership and training role for the Special Forces, teaching the unconventional warfare he says is needed more in the ongoing War on Terror, particularly in Afghanistan.
"I went squirrel hunting," he said of what he was asked to do, leaving out of his base with his gun, a few supplies and water to track down the enemy.
But due to limitations from Status of Forces Agreements — "that limits the whole scope of the military action," Raburn said — the methods needed in Afghanistan are not being utilized, as a conventional army fights and unconventional enemy.
"It's like a dog on a chain," he said. "You always do what you've always done and you'll always get what you've always got."
A changing military
"I'm trying real hard to not sound politically incorrect, and it doesn't come naturally," Raburn said with a smile.
Air Force veteran John Fluegge joined Raburn at the table to offer his opinion on political correctness in the military, something he saw more and more of over his 36 years. And as he sat down, Raburn gave Fluegge one of those common verbal jabs — something about running over his wife with a tractor — heard flung around the post, the playful ribbing from veteran to veteran.
"I don't think the military and political correctness go together," Fluegge said, nursing a Coors Light. "It doesn't work."
Both Raburn and Fluegge noted the increase in young people joining the military to develop a particular skill that can be used upon reentering civilian life. This has always been around, Fluegge said, but it seems to be more prevalent with advancements in technology integrating into the military.
"They took my secretary and gave me a computer," Fluegge, who moved to this area after being transferred to Dobbins Air Reserve Base in Marietta in his final years, recalled of his own experience.
Today's young people go into the military with a better idea of how to use it to benefit their lives, no longer having their awareness overtaken by the "indoctrination by the school system," Raburn said. He has even personally taken young people under his wing to share his knowledge and experiences to help them, as well as driving them to the Army recruiting office in Rome.
What hasn't changed about the military, no matter which branch, is the camaraderie shared between its members — the people and the moments that will never be forgotten.
However, Raburn said service members do not keep in touch with one another after leaving, for the most part. There may be a Christmas card sent out or a phone call made, but rarely does interaction take place face to face, especially for combat veterans, he continued.
When those who shared in the chaos of combat meet again and look into each other's eyes, those memories which have been suppressed for years rush back into the mind, Raburn said.
"You're tickled to see them, but it all comes back," he said. "Those horrors come back."
But at the American Legion, Raburn is amongst those who understand but do not trigger those lingering memories, he said. This bond is formed and emboldened by each new member, for they are a brother and sister in arms, and he knows them all by name.