• The Calhoun Autism Network hosts its annual Christmas party earlier this week, with members of the group reflecting on what it brings to the community.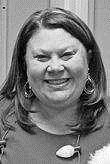 A few years ago when Barry Blevins and Justin Lindsey went to the Georgia Autism Conference, both of them realized that there was a lack of resources in Northwest Georgia for families with children on the autism spectrum. After attending the conference, Lindsey decided to try to form a support group in Calhoun to provide education, resources and encouragement for families affected by autism.
The founder of the Calhoun Autism Network and president of its board, Lindsey now claims that the nonprofit he created two years ago is successful only because of the people involved. The group started with around 10 kids, but currently their monthly meetings bring anywhere from 60 to 100 kids, parents, grandparents and family members.
"Having the parents, teachers and kids together just allows them to have that network of support," Lindsey said. "It's something everyone needs and it's continuing to improve."
On Monday night, the Network hosted their annual Christmas party, featuring a visit from Santa, cookie decorating activities, gifts for the children and a showing of the Polar Express. Lindsey said while Santa tends to bring out a lot of people, their biggest event is actually the back-to-school party every August.
Lindsey graduated from Calhoun High in 2009, and after earning his undergraduate degree, came back to teach at Calhoun Middle School, where he has been for the past six years teaching in a resource setting. He was recently named the 2017-2018 Educator of the Year at the Northwest Georgia Healthcare Partnership's North Georgia Autism Conference and last month was named 2018-2019 Teacher of the Year for the school system.
Holly Blevins, who is also on the board of directors and married to Barry Blevins, said this group has been a huge help to her family. The Blevinses have two sons, one of whom, Brodie, was diagnosed at a young age with autism and epilepsy. After his diagnosis, the couple realized that the services in Calhoun were not up to speed with the growing number of children being identified as on the spectrum.
Holly Blevins has been teaching for 20 years with five of those years being with Calhoun City Schools. As of 2018, 1 in every 59 children are labeled as on the autism spectrum, and that autism is more common in boys than in girls, she said. According to data from the Centers for Disease Control and Prevention, the autism spectrum disorder is four times as more prevalent among boys than girls.
Since finding out that Brodie was on the spectrum, Holly Blevins has been looking for some type of service to help her son get the assistance he needs. Only two years ago she was able to stop looking.
"Now somebody else is there to help," she said. "And we're all at different stages, so whether someone's coming to the meeting just learning the diagnosis or coming in to say they've been there before, somebody else has been there and they know what you're going through."
Board members said they usually try to have special guests speak at their meetings, whether that's Calhoun Police Chief Tony Pyle, who spoke a couple months ago, special needs lawyers or organizations offering services to families.
Board Treasurer Barry Blevins said these meetings are open to everybody and anybody who has a connection to special needs, or even people that are interested in learning more about autism. Holly Blevins also said a lot of regular attendees don't even have kids on the spectrum, they just want to be more educated, which she says is encouraging.
The Network normally meets the first Monday of each month, and occasionally hosts parties and fundraisers. For more information, contact Barry Blevins at barryblevins@synovus.com or Justin Lindsey at lindseyj@calhounschools.org.