Gordon Physicians Group welcomes Gordon Ear, Nose & Throat and Dr. Bradley Goff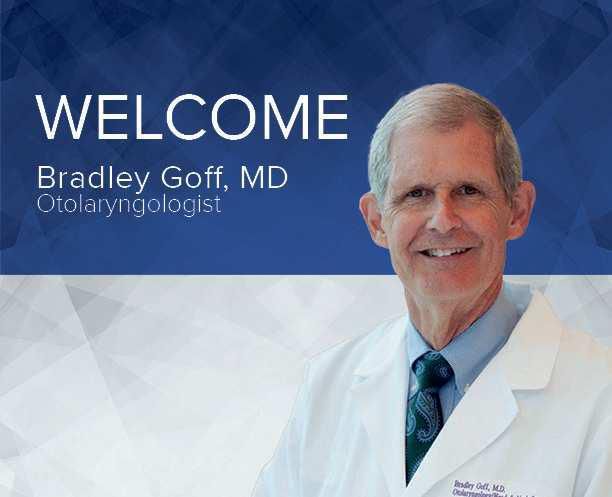 (Calhoun, Ga.) -- Gordon Hospital, a member of Adventist Health System, is pleased to announce the addition of Gordon Ear, Nose & Throat and Bradley Goff, MD.
"We are thrilled to have Gordon Ear, Nose & Throat and Dr. Goff join Gordon Physicians Group," said Brendan Nieto, associate vice president of physician services at Gordon Hospital. "We believe this new service line will greatly benefit our community."
Gordon Ear, Nose & Throat offers a comprehensive approach to combat ear, nose, and throat conditions and provides a wide range of treatment options. With a team of committed healthcare professionals, Gordon Physicians Group's newest service line will provide the community with access to a broader scope of healthcare.
Dr. Goff received his Bachelor of Arts in biology from Wabash College and earned his medical degree from Indiana University School of Medicine. Board-certified in otolaryngology, Dr. Goff brings with him more than 30 years of experience. He is also a member of the American Academy of Otolaryngology -Head and Neck Surgery and a fellow of the American College of Surgeons and the American Rhinologic Society.
Gordon Ear, Nose & Throat is located at 110 Hospital Drive in Calhoun. The hours of operation are 8 a.m. to 5 p.m. Monday through Thursday and 8 a.m. to 12 p.m. on Friday. The practice is now open and is accepting calls at 706.602.3104.
About Gordon Hospital
Founded in 1935, Gordon Hospital is proud to be a member of Adventist Health System. With 45 hospital campuses and more than 8,300 licensed beds in nine states, Adventist Health System is a faith-based healthcare organization headquartered in Altamonte Springs, Florida. A national leader in quality, safety, and patient satisfaction, Adventist Health System's more than 80,000 employees maintain a tradition of whole-person health by caring for the physical, emotional, and spiritual needs of every patient. Each Adventist Health System facility operates independently in delivering care and services to best meet the needs of the local communities they serve. While each entity is unique, all remain united in one mission of extending the healing ministry of Christ.