• Chair of Family Readiness Group and wife of National Guard soldier shares her experience.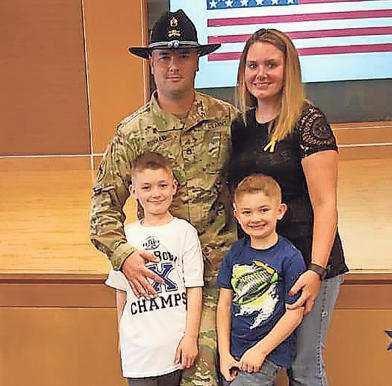 When Anna Durham agreed to be the point person for a planned sendoff for National Guard soldiers early last week, she did so knowing that her husband of 10 years and father of her two children would be among them as they were deployed to Afghanistan.
She said the support from Gordon County to plan this ceremony for members of HHT 1-108th Cavalry, a part of the Georgia Army National Guard 48th Infantry Brigade Combat Team, was "amazing."
"I had so many people that came to me and ask to help," said Anna, who also serves as the chair of the Family Readiness Group, of the event, which was held at Georgia Northwestern Technical College. "It's amazing how well everyone came together to help. The support between the FRG members and the city has been amazing."
The FRG chair recognized the Chamber of Commerce, the Calhoun Police Department, local fire departments, local restaurants, grocery stores, churches and schools in the Gordon County area as being extremely helpful in volunteering their time, efforts
and financial support for the ceremony.
"(GNTC) allowed us to do that event free of charge, so the amount that college did alone helped us more than they will ever know," Anna said.
And all of her planning and volunteers' assistance paid off in the end. At the ceremony, families and friends packed into the GNTC conference center to honor their soldiers.
The approximately 100 National Guard soldiers traveled to Fort Stewart before their deployment to Afghanistan, estimated to last a year. Anna, who's had years of experience being a soldier's wife, said that in the local area around 2,000 soldiers from the 48th brigade were being deployed to the country in south-central Asia for the next year, including soldiers from Gordon County, Canton, Dalton, Cedartown and Cumming.
When asked if Nathan and his fellow soldiers would be put in uncertain situations upon their arrival in Afghanistan, Anna didn't blink before calmly saying "yes."
"They're always in serious danger. They're in a war zone," she said. "These brave men and women are risking their lives and leaving their family and friends to make sure people have freedom of speech."
Training for this deployment started in October and lasted until just before Thanksgiving, according to Capt. Mitch Leachman.
Their training session is included in their year of deployment, Anna said, so hopefully this time next year soldiers will be beginning their journeys home.
Calhoun is the headquarters armory for the 108th Cavalry Regiment and also serves as home to Company D of the 148th Brigade Support Battalion.
Durham's history
Anna, who is originally from Alaska, met Staff Sgt. Nathan Durham, when they were both in high school. Her family spent a few years living in Paulding County, where Nathan and Anna were both enrolled. However, her family moved back to Alaska when she was in 10th grade.
After they both had graduated, they reconnected, dated for six months and eloped. For their 2018 anniversary on Dec. 31, they will be celebrating their 10th year of marriage while Nathan is overseas. This year will be his 13th year in the National Guard.
But this isn't the first time Nathan has been deployed during their time as a married couple. In fact, directly after their wedding, he was deployed for the first time. She said they celebrated their first wedding anniversary while he was in Afghanistan. This deployment is the second one of their marriage, and Anna said the first deployment following their elopement was going well until Nathan came home for a two-week leave.
"He came home for 14 days and we bought our first house in Ranger, we furnished the house, we had Thanksgiving together for the first time, and putting him back on the plane for a second time, I will never forget that day," Anna said, recollecting the memory as tears came to her eyes. "I sat in the airport for probably two hours just crying. It was rough."
This deployment won't consist of a two-week leave, although a majority of the main body of soldiers will be able to spend a couple of days with their families during the Christmas holiday, as most of them will still be stationed stateside during December, according to Anna. She said a majority of deployed soldiers will fly to Afghanistan in between December and February, though the official flight information is considered "operation security" and is not public knowledge, she said.
Second deployment in marriage, first with children
Though their first deployment as a married couple was almost 10 years ago, this is their first deployment as parents, which gives Anna a new perspective. She still has her own difficult days, but now she also has to worry about her two young boys, Brian and Joshua.
"I used to only have to worry about my own emotions," Anna said. "But I can't control (my sons') emotions. They're 5 and 8 years old, but they know their daddy's a soldier and they know he's going to a war zone."
She said when it was just her, it was a lot easier for her to watch Nathan leave, even though it was still difficult. She could control her emotions and keep herself busy, but with sons, she never knows when something will trigger an emotional response from them.
"The small things really make a difference," said Anna, reflecting on the reminders of Nathan's absence. "I still can't get over the fact that I have to fix the coffee in the morning, I don't hear his alarm go off in the mornings, and all of the bedtime stories and prayers he won't be here for."
When asked about the responses of other families left behind from this deployment, she said it's a mixed bag. With her experience as the wife of a National Guard staff sergeant, Anna said she could tell who's been through a deployment before and who hasn't, but that ultimately it affects everyone in different ways.
She said the unit will be nine and a half hours away from Eastern Time, and therefore, staying in communication might be difficult for all involved families and friends.
"It doesn't sit easy with the wife who's watching their child watch their father go to a war zone for the first time or the grand parent who's watching their child go back for the second time," Anna said.
But this is exactly the reason that she got involved with the Family Readiness Group – to make a difference and get help to those who need it.
What the FRG does
"While they're gone, the goal is to have an activity once a month to just see each other," Anna said of the FRG. "We want to provide families with the assistance they might need. We mainly just support each other."
Of the 2,000 soldiers that are leaving families behind, the FRG wants to help as many family members as they can, keeping them connected and offering them an outlet to bond with others who are in the same situation.
When Anna was first introduced to the FRG, she didn't have great memories of it, seeing it as a "gossip group." When Nathan went active with the Guard seven years ago, and she heard of the FRG, she swore to herself if she ever got the chance to change it, she would. And that's exactly what she did.
A year and half ago, she helped out a fellow Guard wife by becoming involved with the FRG that covers Gordon County families, and according to her, actually extends out to cover a majority of the state. Anna started as the treasurer, but soon after moving to Chattooga County, became the chair after the current chair stepped down.
Though Anna's fairly new to the FRG, she's been in charge of the group long enough to know everybody's reaction to a deployment depends on the person.
"I think we're going to have a variety of emotions come through and that's why we want to make sure we do those meetings once a month."
Anna said the relationships she's made from her connection with the Guard have developed into some of her best friends, and she wants to offer other spouses, children and parents the opportunity have similar connections through the FRG.
For families or friends of those going through their first deployment, Anna not only recommend getting involved with the FRG, but she also suggested they find someone they can trust sharing their experience with.
"Find someone you know you can call, that person that at 11 at night or 5:30 a.m. who'll pick up the phone and know exactly what you're going through," she said. "I know people in the FRG that would be happy to be that person. It's one of the best feelings having someone who knows what you're going through and is still there."
Anna said while the FRG is reserved specifically for families impacted by this deployment, she would also love to have volunteers help set up the monthly meetings or plan events. Families can contact her at 478-258-6516 or mannadurham@gmail.com.