The Missing Piece: Family Day fundraiser to be held to help with local couple's adoption cost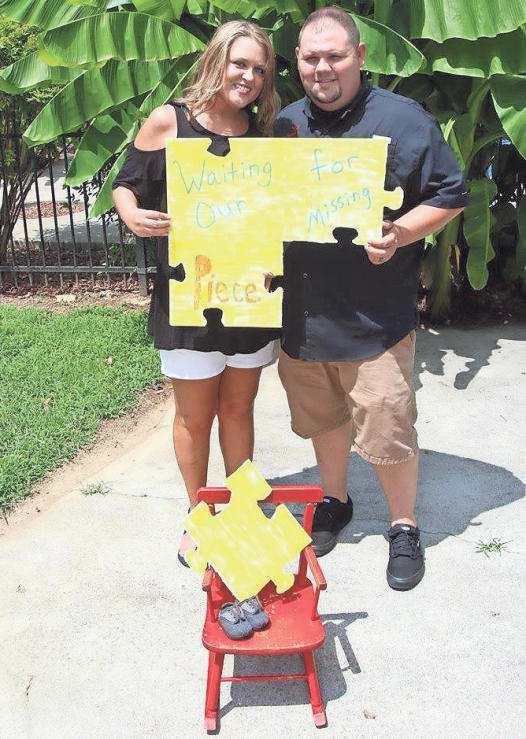 A Family Day fundraiser will be held on Saturday, Sept. 22 from 11 a.m. - 3 p.m. to assist a local couple who are in the process of adopting a baby.
The event will be held at Crane Eater Community Church, located on Red Bud Road in Calhoun.
Brandon and Kienna Childers are in the process of adopting to make their family complete. The couple, who have been married for four years, have always dreamed of being called "Mommy and Daddy," but learned more than two years ago, in April 2016, they would not be able to have children. Kienna was born with a heart condition that does not allow her to carry a baby. Kienna said that upon being told they could not attempt to have a child, their "world was shattered."
The same week that the couple learned they couldn't have children, Brandon lost both of his parents. "We felt so much loss and confusion," said Kienna, "but we began to pray consistently for God to show us his plan. Patiently and faithfully we prayed day after day, month after month but seemed to have no answers."
In May 2017, thinking they had found an answer to becoming parents, the Cummings began the process of having a surrogate carry their child. "We just knew we would finally get to be parents," said Kienna. But after months of waiting and six failed attempts, the Cummings accepted that surrogacy wasn't the plan for them. "We continued to pray for God's will be done," said Kienna. "But as humans, we were completely destroyed. We just wanted to have a child of our own to love."
Kienna said that the topic of adoption had always been a part of their conversations but they never thought it would be an affordable option for the family. "We strongly felt God was leading us in this direction, so we began researching and praying to find the right avenues to begin the process," said Kienna. "We are blessed to say we found the answers we needed to start our journey."
Kienna admits that they understand the adoption process will be long and trying and financially straining, but said, "We are trusting in God's plan for our precious miracle."
A Facebook page was set up for the couple, "The Missing Piece: Journey to Baby Cummings," and various fundraisers have been announced on the page, along with news on the adoption process.
On Saturday, Sept. 22, the community is invited to the Family Day at Crane Eater Community Church, where there will be a Chili Cook Off. Cost to enter the Chili Cook Off is $10 and prizes will be awarded for 1st and 2nd place. To enter chili, send an email to themissingpiececummings@gmail.com.
Others activities will be a silent auction which will include the following items to bid on: homemade farmhouse table, photography session, Luluroe, Rodan & Fields and more; a cake walks every 30 minutes; canvas painting; inflatables; live music; 50/50 Split the Pot drawing and more. There will also be t-shirts available for purchase.
For more information, visit the couple's Facebook page or email themissingpiececummings@gmail.com.