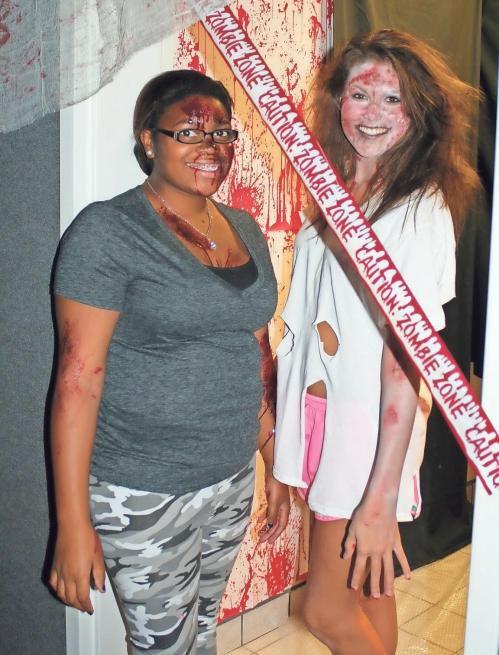 The true horrors of drug and alcohol addiction will be showcased over the next two weekends at the Gordon County Fairgrounds as part of the annual House of Addictions, a haunted house-like attraction that showcases the very real and often terrifying consequences of drug abuse.
The House of Addictions is put on each year by the Gordon County Chamber of Commerce's Drugs Don't Work committee and the Council on Alcohol and Drugs. Other local agencies involved with the attraction include Gordon E-911, Gordon County EMS, the Calhoun Police Department, the Gordon County Sheriff's Office, and the Gordon County Fire Department.
More than 300 thrill seekers are expected to come out and participate in this year's haunted house, which Gordon County E-911 Director and Drugs Don't Work committee Chair Debbie Vance said will be better than ever before. Food trucks will be on site and sponsors will have booths set up around the entrance to the event to give guests something to do while they wait in line. Childcare will be provided for families with young children. There will even be a news crew from CBS Channel 46 on site doing interviews and a walk-through of the scenes.
Without giving away any spoilers about the scares awaiting participants, Vance said scenes have also been updated to reflect the real life situations that most often tempt teenagers into drug use.
"We try to set up our scenes to be current with what's going on," Vance said. "Last year, for example, we did a scene with bath salts. That's not really an issue anymore. Opioids are the issue. Vaping is an issue. Bullying is an issue that leads to suicide. You'll see some of those things in the house this year."
The goal, Vance said, is to show anyone who comes through the House of Addictions, especially teenagers, that there are two paths available to them and that they lead to very different outcomes.
"We want kids to go through and think, 'OK, do I want to go down this road? Or do I want something different?' We want to show them reality," she said.
Students are not just the target audience for the haunted house. They also run it, serving as actors and makeup artists and set designers, and have done so since the first House of Addictions six years ago. Some of those original student participants still come back to help put on the show every year.
"That means the most to me. Seeing kids come back to be involved means we've done our job. We reached them," Vance said. "Someone has to take our place one day. I'm not going to be here forever, so when you get them so involved, that's brilliant."
When asked how scary she thinks the attraction really is, Vance said she knows for a fact it is frightening.
"We had a family go through once and I asked them when they came out what they thought. The dad said it was great and exactly what they wanted their children to see," she said. "But I could tell when we were talking that they were trying to leave. I found out later that the mom wet her pants when she got scared coming out of the house."
Purchase tickets to the House of Addictions online for $3 at houseofaddictions.org. The haunted attraction will be open this weekend, Oct. 25 and 26, and next weekend, Nov. 1 and 2, from 7 to 10 p.m. at the Gordon County Fairgrounds, located at 1060 Libertry Road S.W.