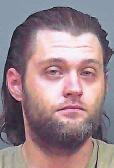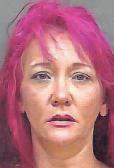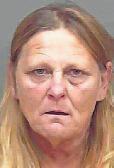 The Calhoun City Police Department arrested three individuals during three different traffic stops over the weekend after finding methamphetamine and other drugs.
According to Gordon County jail and CPD records, Stacy Annette Huff, 38, of 1307 Hoke St., Gadsden, Alabama, was the first of three people arrested. She was charged with possession of methamphetamine, possession of a scheduled II substance, possession of a scheduled IV substance, possession of dangerous drugs and possession and use of drug related objects.
Police say Huff was the passenger in a 1998 Jeep Grand Cherokee that was pulled over Saturday at about 1 a.m. while traveling on West Line Street with a non-functioning headlight.
During the stop, the driver, Sean Stepp, advised an officer that he had been arrested in the past on drug
charges. The officer also observed both Stepp and Huff "making furtive movements" and being "extremely talkative."
Stepp agreed to a search of his vehicle. A second officer searched a wallet and cigarette pack that Huff was holding when she exited the vehicle and found a straw with suspected meth inside the cigarette pack and multiple pills inside the wallet. A tin containing a crystal substance and five straws all containing substance believed to be meth, as well as three more pills, were found inside Huff's purse.
The pills are believed to be Alprazolam, Clonazepam, Gabapentin and Oxycodone.
Huff was arrested and Stepp was released with a warning for the headlight.
The second traffic stop turned drug arrest occurred just after 1 a.m. Sunday when police pulled over a 2008 Honda CR-V because of a non-working brake light on North Wall Street near Line Street. The vehicle also was missing a tag light and only had a test drive tag.
An officer noticed the driver, Roger Dale Bailey, 32, of 5 York Drive N.E., Plainville, reaching toward the front passenger door as he approached the vehicle. The officer also noticed that Bailey was "extremely nervous and making furtive movements." Bailey also told the officer he had been arrested on drug charges in the past.
Bailey consented to a search and the officer found a storage draw under the front passenger seat that contained a clear glass smoking device with suspected meth residue and a black bag containing 8.1 grams of suspected meth.
Bailey was charged with possession of methamphetamine, possession of drug related objects, no tag, brake light requirements and tag light requirements.
The third drug arrest happened about an hour and a half later when police pulled over Sandra Jean Rodriquez, 55, of 509 Hazel St., Calhoun, on South Wall Street for making an improper right turn.
The officer noticed Rodriguez was shaking when she handed over her license and insurance card, and he also recognized her as someone known to live in a house known for narcotics.
Rodriguez gave permission to search the vehicle and admitted there was methamphetamine in her purse. While searching the purse, the officer noticed Rodriguez leaning over the fender of his patrol vehicle. When he did not find any drugs in the purse, Rodriguez responded that she must have dropped them somewhere.
The officer then found a clear plastic baggie containing a crystal substance believed to be meth on the ground near the fender of his vehicle where Rodriguez had been standing.
The report said: "Rodriguez then saw the bag laying on the hood of my car, and stated that the bag of methamphetamine I recovered was not the baggie that the methamphetamine she had came in. Rodriguez stated it was a different type of bag that her methamphetamine was in."
Rodriguez was arrested and charged with possession of methamphetamine, improper right turn and an expired tag.