• Army veteran Michael Reynolds discovers farming offers a sense of purpose and the Kubota Geared to Give program reaches out to help.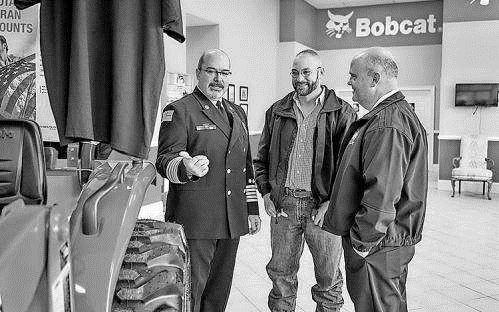 The transition from soldier to civilian is never easy, and becomes even more difficult when veterans return home with injuries, according to Michael Reynolds, who served in the U.S. Army as a flight medic for 18 years. During his service, he suffered a traumatic brain injury in Iraq and medically retired in August 2012.
Coming home to Gordon County, he wanted to find a new purpose, according to the television series "Growing a Greener World" created by the Public Broadcasting Service. In the spring of 2017, a PBS crew came out to Reynolds' farm to talk to him about being involved with the Farmer Veteran Coalition. In the series' episode No. 807, a short biography on Reynolds' experience as a farmer is captured on film.
"Being a soldier is hard work," Reynolds said on camera, explaining how the schedule of an army medic is often nonstop with little time to rest.
Though he is a licensed paramedic by the state of Georgia, because of his injury he was no longer able to continue in that line of work when he returned home from a military hospital.
"Guys at the fire department, the police department and emergency medical services tried to help me find a place but as hard as I tried to go back to those things, I physically couldn't," he said.
Unable to go back to the career he had started when he was in high school, he struggled to find something to keep him busy. Then, soon after returning home, he asked his friend and Pastor Eddie Brannon if he could start volunteering on Brannon's farm.
Drawn to a farming life
Always needing more help, Brannon quickly invited Reynolds to help out on his farm. Brannon, who is the president of Max Brannon and Sons Funeral Home, served as a mentor figure for Reynolds during their two year working relationship. Through volunteering, Reynolds quickly learned that farming could offer him the sense of purpose he had been seeking.
"I would start at 6:30 a.m. and go to bed at midnight, for six and a half days a week," Reynolds said. "And they ask me if I have nightmares, but by the time I go to bed I'm so doggone tired I don't have the energy to have a nightmare."
With farming, he was able to channel his energy into something productive, he said. He quickly learned he had to be focused and bring his "A" game, otherwise he or someone else could possibly get hurt.
"It's things like that where you can feel alive again," Reynolds said.
After two years volunteering with Brannon, Reynolds decided to start his own farm. Since he was new to the farming lifestyle, he didn't have equipment or land to provide him with a foundation. However, Brannon lent out his equipment to help kick-start Reynolds' dream of farming.
Reynolds Farms, also known as Hero Cuts, was able to get started with the help of not only farming friends, but also with help from the Farmer Veteran Coalition, the National Resource Conservation Service and AgGeorgia Farm Credit, according to Reynolds.
"With our farm, we have a goal of having 85 percent of what hits our family's kitchen table to come off of our 82 acres," Reynolds said.
His farm consists of solar-based energy, bee hives, goats, chickens, alpacas, cows, horses, pigs, timber and a variety of fruit trees and vegetables.
"Instead of farming a lot of one thing, we've got to farm a little of a lot."
Reynolds also has a goal of demonstrating to other veterans how farming can be a good way to both stay busy upon returning home and get guidance from older veterans who took up farming.
Earlier this year, Reynolds was invited by AgGeorgia Farm Credit to travel to Washington, D.C., to explain to key lawmakers and leaders in the U.S. Department of Agriculture the importance of agriculture to veterans. When he was specifically asked by a senator what the most important need for farmer veterans was, Reynolds' answer was guidance from older veterans.
"Everyone would think it would be money, but hands down it is mentorship," Reynolds said, reflecting on his visit to the capital. "You have got to have that older farmer who will come out and walk the field with you."
Geared to Give
Coming in a close second as far as needs, though, is funding, Reynolds told the USDA. When you have limited equipment, productivity can be slow. There's only so much you can do without the right tools and equipment, he said. So when Kubota Tractor Company chose Reynolds as a recipient of the keys to a new Kubota L Series compact tractor as part of the company's Geared to Give philanthropic program, his entire family was overjoyed.
On Tuesday, Reynolds was recognized by Kubota and his local dealer, Rhinehart Equipment Company, with his new tractor in a special ceremony. Those present included staff of Kubota, Rhinehart, NRCS and Farm Credit; Beau Chatham, a Warrior Life Services brain injury specialist; fire chiefs from Cherokee County, Bartow County, Chatsworth, Murray County, Gordon County; Calhoun Police Chief Tony Pyle; Gordon County's EMS and EMA directors; Eddie Brannon; and Anne Marie and Billy Carr with Gordon County Young Farmers.
The Geared to Give program, in partnership with the Farmer Veteran Coalition, was designed to provide U.S. veterans with the equipment and tools they need to advance careers in farming, according to the Kubota Tractor Company. The program started in 2015, and has provided equipment and grants to 26 farmers over the past three years.
"Having the tractor makes it where it's easier on me and makes things a lot safer," Reynolds said. "It moves you toward that goal faster and you can get more accomplished in one day."
Pyle, who was present at Tuesday's ceremony, was proud to be a part of the event.
"As a flight medic in the army, Mike's primary duty was to save the lives of other warriors, and in doing so, he constantly placed himself in harm's way," Pyle said. "I honestly believe Mike Reynolds is one of the best men I've ever known and no one is more deserving of this award."
"It's not just a piece of equipment to help me farm," Reynolds said. "It's going to help all of us reach our goal (of 85 percent sustainability), and that's big."
Reynolds plans to use his new Kubota tractor to increase the farm's independent sustainability, work toward self-reliance and build several barns. He is also interested in establishing a nonprofit to provide sustainable agriculture and cooking lessons to disadvantaged youth and veterans, according to a news release from Kubota.
To view the episode on PBS's "Growing a Greener World" series that features Reynolds Farms, visit growingagreenerworld.com/807. For more information on Reynolds Farms, visit their Facebook page.