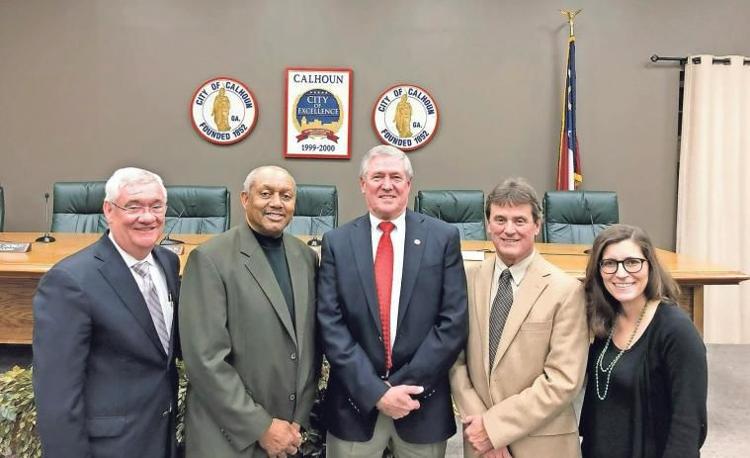 A new program developed by the Calhoun Police Department is set to help officers provide safer and more sensitive care for persons with special needs.
"This is a program for special needs people who maybe don't possess the coping mechanisms that most of us do. They may have meltdowns when they see the police or firemen because they don't really know the difference," Calhoun Police Department Lieutenant David Nelson said at Monday's Calhoun City Council meeting. "You can fill in as much about them as you want or you can omit what you want, but the more you give us, the more we will be prepared."
Registration into the program is completely voluntary and open not only to Calhoun residents but to all residents of Gordon County who visit, attend school, or regularly attend other events in the city. Nelson said any information submitted through the registration form, which includes questions about triggers and calming techniques, will be kept private and used only in the event that police are called to the home of the individual in question.
"When 911 gets a call and pulls up your address, it will bring up the form and provide us with information about the individuals in your residence and any issues," Nelson said. "Speaking personally, I have a Down Syndrome son. He does have some issues, but not quite as bad as a lot of others. This information is really going to
come in handy."
Councilman Al Edwards praised the new program for its capacity to assist special needs persons and the elderly, who are also eligible to participate in the registry and have suffered in nearby communities like Chatsworth when police were unprepared to deal with their specific needs.
"There was an elderly lady [in Chatsworth] and it seems like she was about 85-ish or something in that neighborhood," Edwards said. "She was out in the yard cutting flowers with a knife. She didn't speak English. I don't really remember what the circumstance were that caused the police to be called, but they got there and she had the knife. She wouldn't respond to their request to put it down because she didn't know to and she ended up having a taser used on her."
"So, hopefully this kind of thing could prevent that type of situation from developing," Edwards continued.
In other business, the council also:
• Re-tabled an annexation and zoning request for 1117 S. Wall St. pending a resolution in Superior Court related to citations from Gordon County. The property, owned by GAH Properties, had been neglected for more than a decade before the request was submitted to the city.
• Heard a first reading for amendments to the City of Calhoun Code of Ordinances that would allow for residents of counties adjacent to Gordon County to serve as store managers of establishments serving alcoholic beverages.
• Heard a first reading for a beer and wine package license for Love's Travel Stop at 1081 Belwood Road S.E.
• Heard a first reading for a beer pouring license for Wings of Calhoun LLC, located at 273 Hwy 53 East, Suite 1.
• Approved a special event permit and road closure request by United Way of Gordon County for its Unity Run XXVI. The event will be held on Tuesday, Sept. 24, at 5:30 p.m.
• Approved a Telecommunications Department request to declare as surplus a Briggs and Stratton EXL8000 generator.
• Approved a police department request to declare as surplus a 2006 Chevrolet Equinox and a 2012 Dodge Charger.
• Approved a police department request to purchase six computers for the patrol division at a total cost of $9,512, to be paid with state forfeiture funds.