Clark brings ideas for growth, talent retention for Gordon Co.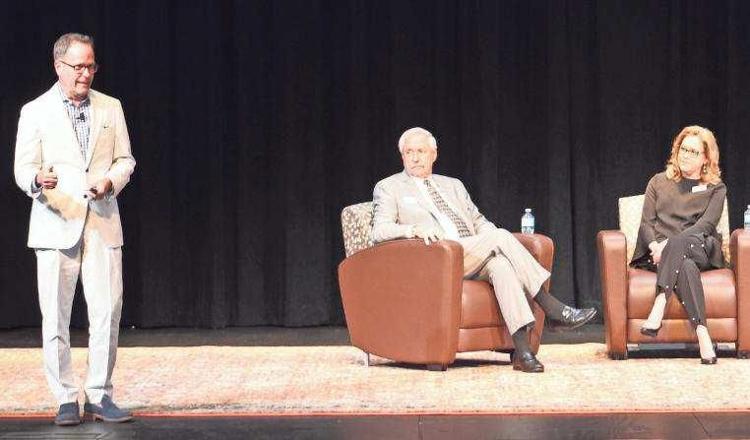 Chris Clark, president and CEO of the Georgia Chamber of Commerce, spoke at the annual State of Industry event last Friday, July 27, and encouraged local business leaders to plan for an ever-changing world in the next 10 years, laying out a forecast for Gordon County and how to attract, and retain, job talent that will be vital to economic and community growth.
Clark began by pointing out the current and projected conditions of Gordon County as reported by the Economic Innovation Group, analysts who looks at eight different criteria of every county in the United States to get a sense of whether a county is growing or stagnant. The group looks at criteria such as population, job growth, poverty rates, number of students graduating from school and housing rates and puts counties into three levels: distressed, borderline distressed and prosperous.
"Nationwide, 20 percent of all counties in America are in distress today. In the state of Georgia, 53 percent of our counties are distressed."
Clark explained that distressed counties will see a trend of job loss, people leaving the community and high poverty rates. Prosperous communities have high levels of new jobs and people moving into the communities. Gordon County, at this time, falls into the middle category of borderline.
Clark said that for places like Gordon County to have a prosperous future, there needs to be systemic issues addressed in the community.
"Things (in Gordon County) are better than your neighbors (at this time); you enjoy your community," said Clark. "But the economy is changing rapidly, economic development is changing and business is changing. So the decision needs to be made, are we happy with where we are or are we going to continue to grow?"
Clark explained that over the next 8 - 10 years, while Gordon County is projected to have a little bit of population growth, there is a projected net job loss for the area.
"That's a key word, projecting," said Clark. "That can change if you address the issues."
Clark said that the mantra in job growth has shifted over the last five years from location to talent.
"The number one thing businesses are looking for is talent," said Clark. "Do you have the kids, do you have the generation of workers, can you recruit them to your community? It's all about talent. If we don't have the population, we don't have the talent."
Clark said that in the next 8 years, Georgia will have 1.4 million job openings, on top of what is out there today. In Gordon County, there will be just under 1,000 new jobs created, but 11,000 people are expected to retire in the same time frame, pointing out that Gordon County needs to begin planning now to fill those jobs by attracting talent.
Clark told the audience that some of
the concerns he sees now, using statistics, are that 68 percent of Gordon County third graders can't read at grade level, 23 percent of Gordon County kids live in poverty and only 50 percent of Gordon County students enroll in postsecondary education.
"If you know that 68 percent of your kids can't read at third grade, that needs to be the biggest issue this county deals with. If I can't read at a third grade reading level, there's no way I can be the entrepreneur that I need to be long term. If your kids are living in poverty, that's your future workforce. You need to start thinking of those kids differently. You need to make sure they have the skills for the talent that you need long-term. And those 50 percent of kids you are graduating out of your school systems are not going on to get the training they need for the jobs of the future. These are the issues we are dealing with. We have to do a better job of preparing these kids."
Clark then laid out some solutions, a Talent Agenda, to train those in the community for the jobs and to attract additional talent.
"My goal is for every Chamber in every community in Georgia to have a Talent Agenda that they treat with as much importance as they do their economic development; these have to go hand in hand," said Clark.
Clark told the audience to make sure the talent is aligned. "Make sure that the kids you are training, the students you have, are aligned with the jobs you are going to have in the future of your community," said Clark.
Another solution from Clark was to make sure to access the talent already in the community, suggesting to utilize the faith community with training help and additional social services for support.
Clark also said that Gordon County has to be able to attract talent with things such as housing, diversity, amenities, infrastructure and healthcare. "You have to provide a place to live, work, play and pray," said Clark. "We've got to make sure our communities are attractive to Millennials and Generation Z. It's not about you anymore; it's about the next generation of talent and what you need to do to get them to want to live here."
Cultivating talent by aligning the curriculum with the local market was another suggestion from Clark, providing equal access and support to training, updating school finance models and providing apprenticeship and internship programs.
"What we are seeing in successful communities is more diversified and personalized education," said Clark.
Finally, Clark suggested making sure talent has future skills, things such as life skills, cultural intelligence, and an entrepreneurial mindset.
"At the end of the day, as a community, you have to realize these challenges, you have to realize how quickly the world is changing and be ready to address, not just your growing senior population, but how you are going to take care of them, take care of your existing industry to replace those jobs and have a community that is attractive and prepared for all of these roles."