• The Department of Labor employee understand the struggles of disabled veterans and helps them succeed post-service.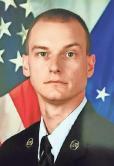 As a veteran who served in Iraq, Joshua Hickman has been looking for a way to help other veterans, specifically those who return from their service disabled in some way. And on May 1 he started a job that allows him to do exactly that.
Now, as the disabled veteran outreach program specialist for the Georgia Department of Labor, Hickman is reaching out to local veterans in the Northwest Georgia area and assisting them with job preparation skills, resume building and interviewing techniques. Though he is based in Rome, Hickman aims to visit other local towns, including Calhoun.
In fact, nearly a week ago, Hickman was at the Calhoun Public Library, offering his services to any veteran who needed assistance in being offered a job or needed their resume polished.
"In smaller towns, the larger the veteran population, the more increased the barriers for employing veterans will be," Hickman said.
When he came back from Iraq, Hickman didn't know the services available to help veterans reintegrate back to their home towns and societies. He said he had to do everything on his own – search for jobs, overcome his own personal barriers and defeat the stigmas of being a disabled veteran.
Yet, now that he's aware of the opportunities for veterans and he works for the department, Hickman wants to help give other veterans what he didn't have.
Nyala Edwards, the manager of the Calhoun library, said that "soldiers are heroes that risk their lives" during their time in service and need to be taken care of when they return home.
"Too often they are told to go to Atlanta's VA Hospital to receive medical care or go to Rome to sign up for benefits," said Edwards, who expressed her gratitude for Hickman for serving the Calhoun community. "This is unacceptable to me because the veterans that came to our library said they did not have the transportation and quite a few are homeless."
Edwards said during the times Hickman comes to Calhoun, she will set aside study rooms for him in the library, and veterans who come to talk with him work toward developing job-ready skills and talk about how to overcome their individual barriers to employment.
"This is free help to those (who need it) and beneficial to the Calhoun/Gordon County community when there are so many looking for jobs," Edwards said.
"I don't work for veterans, I work with them," Hickman said, explaining the two-step method of his job. "And my partner, Terry Meadows, talks to employers to try to get them hired."
Though Hickman is brand new to this position, he foresees both staying in this area of the state long-term and making a career out of this job. His passion for disabled veterans is one of the things that motivates him, and he said he could see himself retiring from this position.
Hickman will be visiting the Calhoun library, 100 N. Park Ave., every first and third Thursday of each month, from 1-3:30 p.m., offering free consultations and assistance.
Hickman and his office will also be hosting a Veteran Resource Fair in Gordon County at the Agriculture Center, 1282 GA-53 Spur, on Aug. 7 from 9 a.m. until 3 p.m., which will gather local agencies and organizations that focus on helping veterans.
Hickman's work includes assisting veterans who might be homeless, disabled, recently separated, lacking high school education (or GED), low-income, Wounded Warriors, transitioning back to the states, incarcerated and/or released offenders, as well as veterans' caretakers and spouses.