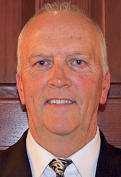 After a little more than six months of discussion, the city of Ringgold held the first reading of its newly designed occupational tax ordinance during its council meeting on May 8.
In December, Mayor Nick Millwood and the council began the process of changing the city's occupational tax ordinance as a way of recouping more revenue to cover evolving operating costs of the city. The proposal of switching from a flat-rate system to one based on gross receipts stalled when a number of business owners expressed concerns over the drastic numbers some businesses would have incurred, as well as the added accounting that would have been required.
Instead of passing something new in order to get it on the books for 2017, the council opted to create a committee to brainstorm a fair solution to the problem.
On Monday night, May 8, council member Larry Black, who chairs the committee, brought the new ordinance to the council meeting for its first reading.
"On our committee, we had a number of business owners that understood the situation we were in," Black said. "We were able to handle this in a very professional manner and hammered out some of the agreements."
Rather than a tax based on a scale or a small flat fee, the committee recommend a new ordinance that is essentially a hybrid of the two concepts.
Each year, businesses will have to pay a flat $100 administration fee that'll be standard for each business, and then an additional fee based on the number of employees the business has.
That scale breaks down as $20 for 1-25 employees, $18 for 26-50 employees, $16 for 51-100 employees, $14 for 101-200, $13 for 201-500, and then $12 for more than 500 employees.
That scale applies to each employee, meaning a small coffee shop that has five employees would have to pay the $100 flat fee, and then an additional $100 for its five total employees. On the flipside, a large business with 500 employees would have to the $100 admin fee and an additional $6,000 for it 500-person force.
There will also no longer be an exemption for manufacturing businesses in the city. Those businesses will fall under the same scale outlined in the new ordinance.
"I really appreciate all the work Larry has put into this, he's really done a great job, as has the committee we've put together. ... They did a great job and got a lot of great discussion going on up there," Mayor Millwood said.
The newly crafted ordinance can be found on the city's website at cityofringgoldga.gov.
The second reading of the ordinance is slated for the next regularly scheduled council meeting at 7 p.m. on May 22.