Fort Oglethorpe to purchase $330,525 utility jet truck for sewer, street departments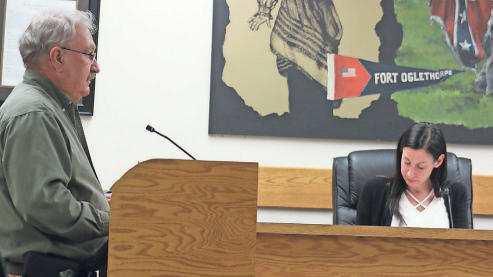 The Fort Oglethorpe City Council unanimously approved a major purchase when it agreed to spring for a new utility jet truck to be used by its sewer and street departments.
Public Utilities Director Phil Parker presented his recommendation to the council Monday night, Dec. 11, and explained that he, the Public Works and Recreation director, and staff had gone through an exhaustive process researching the needed vehicle.
"Back in August, we sought proposals through advertisement and we also contacted some suppliers for a heavy duty combination sewer cleaner jet truck," Parker said. "It's a combination unit that will have the capability of jetting out sanitary sewer lines and larger diameter storm drains."
Parker says the city's current fleet of vehicles doesn't have the capabilities that are sometimes needed, and that the departments have to sometimes rely on help from neighboring municipalities.
"We have a small truck, but with a lot of the larger diameter lines, it's ineffective," Parker said. "This truck is very similar to the ones Rossville and Ringgold both have, and on a number of occasions, we have had to call them to unstop those sewer lines and storm drains because our truck just couldn't handle the work."
Parker added that the truck would be used by multiple departments due to its versatility. "The truck we're
requesting will be used in the sewer department and the street department, it'll be used by both for sanitary sewer and storm drains," Parker explained. "The vacuum can be used to vacuum catch basins, and the debris from pump station wet wells. This truck has lots of uses. It's a very expensive piece of equipment, but it will serve the city in a number of capacities for a long time."
Parker says he received four bids for the truck, and the council ultimately approved his recommendation for the purchase from Environmental Products of Georgia in the amount of $330,525.
"This particular manufacturer supplied us with a list of references. ... The cities of Ringgold and Dalton use trucks by this manufacturer, so we talked to both of those folks that run the trucks and they're very happy with the trucks," Parker said. "Dalton has actually bought a second one. "It'll be purchase out of SPLOST for use by two departments."
Mayor Earl Gray says he was impressed with the time and research Parker and Long put into finding the right vehicle for the needs of the city.
"They've gone overboard really looking at them (trucks), trying to figure out which one is the best, which one is the lowest maintenance, and so on," Gray said. "I'd just like to compliment them on their hard work in finding and selecting this piece of equipment. I know it sounds like a lot of money, but it's something the city desperately needs."