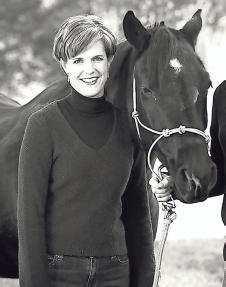 Alicia Vaughn was confirmed by Catoosa County commissioners as the new county manager on Sept. 4.
We asked Ms. Vaughn, who will begin her new job Sept. 24, to share some things, serious and lighthearted, about herself so residents can get to know the person who will be running their county on a day-to-day basis. Here's Vaughn in her own words.
Where did you grow up? I grew up in Whitfield County, in the small community of Rocky Face, but I live on the north side of Tunnel Hill now, so just a stone's throw away from Catoosa.
Education: I received my high school degree from Northwest Whitfield High School and a bachelor's degree in accounting from the University of Georgia. I am also a certified public finance accountant through the Carl Vinson Institute.
Job history: I started my career in banking, ending as assistant vice president of First Bank of Dalton. I then owned my own successful catering company for 10 years. I returned to accounting as deputy finance director of the city of Dalton for six years.
For the last six years I have been the chief financial officer of Whitfield County.
Family: I have two wonderful daughters. Gracen attends UGA and Gillian is a sophomore at Northwest High School. I married my childhood sweetheart 25 years ago. My husband, Gandi Vaughn, is a trial attorney in Dalton.
Pets: I love my five horses, three dogs and two miniature donkeys, Wilbur and Buttercup (Buttercup thinks she is a dog).
Hobbies: Hanging out with my horses, reading and exercising.
Favorite book: "The Missing Piece Meets the Big O" by Shel Silverstein
Favorite movie: "Baby Boom"
Favorite food: Waffles with pecans
Sports fan? GO DAWGS!
Favorite person from history and why: Abraham Lincoln because he kept our country together during a very difficult period in our history.
Favorite quote: "Be the change that you wish to see in the world." — Gandhi
Someone who has had a deep influence on your life and how: Mike Babb, former chairman of the Whitfield County Commission. I worked with him when I was finance director and he taught me about leadership. One of his favorite quotes was from Justice Robert Benham of the Georgia Supreme Court — that when you are looking for quality traits for persons in leadership, that person should be open-minded, level-headed, even-handed, sure-footed and grounded in values. Mike taught me to remember every citizen is important and should be treated with respect.
Interesting anecdote from your childhood: I loved to fish with my grandfather after school each day in our backyard pond with an old rod and a loaf of Sunbeam bread we used as bait.
An event in your life that has helped define the kind of person you are: My grandfather lived with us for many years when I was growing up. I learned from that experience to love your family, to be kind and respectful to your friends and neighbors and to always help those less fortunate.
Something people may not know about you: I love kickboxing.
What made you decide to seek the position of Catoosa County manger? When I look back on my career as CFO, my favorite times were working with department heads and other local governments and school districts, helping them do their jobs, and bringing people together as a team to solve the big problems facing the county.
What do you feel you bring to your new position in Catoosa County, what are your greatest strengths? I enjoy learning new things and am always willing to listen to other viewpoints. I believe one of my greatest strengths is the ability to take these different viewpoints and ideas and find a common-sense way to get those people on the same page and working together for the county. I bring a strong background in government finance, 12 years of local government experience, not only managing my own staff but working with local cities and school districts and helping entities meet common goals within the community.
What do you consider the top responsibilities of a county manager? Supporting the work of the department heads, understanding the concerns of citizens and implementing the vision of the commissioners.
What will your first month on the job look like? A ton of meetings to get to know all the department heads and get an understanding of the community's needs.
Anything you'd like to say? I will have an open-door policy for citizens and employees alike, so come and see me. I am excited about working with the elected officials and the people of Catoosa County and making a difference.