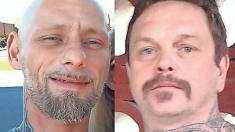 Less than a week after two men allegedly robbed a Ringgold gas station with guns in hand, the suspects have been arrested in Tennessee, thanks to a manhunt conducted by multiple law enforcement agencies.
According to the Ringgold Police Department, two men identified as Dewayne Lee Halfacre and Timothy Howell, both of Tennessee, walked into the Mapco Mart convenience store at the corner of U.S. 41 and Ga. 151 just after 2 a.m. Monday morning, Jan. 22, and threatened the clerk with semiautomatic handguns.
Chief Dan Bilbrey says the men pulled out their weapons and demanded cash and cigarettes, but that the haul wasn't quite what they expected.
"They went in armed, and only got about $26 in cash and the cartons of cigarettes," Bilbrey said. "Both men have a criminal history."
Immediately following the incident, the store clerk said the men jumped into a dark-colored passenger vehicle and took off northbound on U.S. 41.
The clerk was unharmed during the incident.
While detectives were investigating the case, the 52-year-old Howell was arrested later in the day on Jan. 22 in Marion County, Tenn., while Halfacre continued to elude authorities.
While Halfacre was on the run, authorities in Rutherford County, Tenn., linked the two men to the armed robbery of the Almaville Market near Smyrna, Tenn., on Friday, Jan. 19.
Authorities say the two are also suspects in multiple other crimes throughout the area over the past week.
On Tuesday, Jan. 23, Halfacre was added to the Tennessee Bureau of Investigation's (TBI) 10 Most Wanted List.
Schools in the Whitwell area of Marion County, Tenn., were on "soft lockdown" Wednesday and Thursday while the manhunt was ongoing for Halfacre.
Halfacre was finally arrested on Friday morning, Jan. 26 after TBI agents tracked his whereabouts to a location in Whitwell. He is currently being held in the Marion County jail.