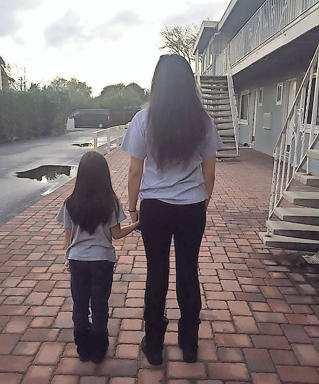 Imagine you're 8 or 10 years old. Or 15 or 16. For one reason or another you have no real home to call your own. No bed of your own, much less a bedroom. Your clothes and a few toys or personal possessions are in your backpack or a plastic grocery bag. Your family is staying with Aunt Jane and Uncle Joe, who are none too happy about it.
Or maybe you're all staying at a friend's house or in a motel. The holidays are coming up but there's nothing special in sight for you — not for Christmas and not beyond.
That's the basic situation of more than 350 children and young people in Catoosa County schools.
"There's a problem of invisible homelessness in our area," says Catoosa Schools social worker and homeless liaison Melissa Holcombe. "Families are living doubled up or in places not normally used for habitation because parents have lost jobs or have substance abuse or mental health problems. Children live in tense and unpredictable circumstances where they know their families could have to leave at a moment's notice. They're walking on eggshells. They see and feel the conflict and instability."
While all this turmoil is going on in children's lives, they're expected to keep up their academic performance, even in the face of changing schools once or more a year. Holcombe says that studies show that children identified as homeless lose three to six months of academic gains every time they must switch schools. This is one of many issues Holcombe and those she works with help to resolve for children already facing so much trauma in their young lives.
"If a child's family has to move to another school zone, that's one more major disruption in their life and education. We do all we can to keep them in the school they've become accustomed to. We see if there's a way we can bus them to their school of origin or we'll provide gas vouchers so parents can drive them to school."
Holcombe also works with the school system, social service agencies, churches and individuals to get clothing and school supplies for children, to pay for field trips and extracurricular activities and to provide food. "We have one church that gives students L.L. Bean backpacks as a way of saying 'You're worth spending extra on.'"
As needed, children in grades K-8 who are experiencing homelessness are also provided with one-on-one tutors. Even after a child catches up academically, they keep their tutor. The program has been marked a "Best Practice" by the Georgia Department of Education and is recommended to other school systems.
Another program started in Catoosa County schools and deemed a "Best Practice" by GADOE is Case Management for Seniors. "We have older students who have left home for various reasons," says Holcombe. "The chance they'll drop out of school is high. We've had students who were living in tents, drifting from one friend's home to another. One young man told us when he was at a friend's house he tried not to eat anything because he didn't want to be viewed as a burden and not welcomed back."
For these young people, the school system and its partners help with physical needs — clothing, food, etc. — but they also do all they can to help young people "graduate and get situated." That includes everything from tutoring to help filling out college or work applications, finding scholarships and paying for a student's graduation cap and gown.
"We also pay for a dental workup and treatment that's needed," says Holcombe. "Even if a student is eligible for Medicaid, it often doesn't cover dental work."
Holcombe says that the young people's emotional needs are kept in mind, too. They receive birthday greetings with gift cards in them, and donors never know the identity of the students they're helping. "We respect their privacy and dignity," says Holcombe. "It's hard to be on the receiving end so much. I tell students when they feel uncomfortable about all the help they're getting that we all need each other and we all need help sometimes. Their turn will come to help someone else. Some of them are already reaching out to help."
There are currently 15 Catoosa students, with up to 30 expected by the end of the school year, who are part of the Case Management for Seniors program, says Holcombe. "We have graduates who have been part of the program and are now in college or the military or working. Last year, one of our students got close to $100,000 in scholarships."
Holcombe says one problem in Catoosa County is that there isn't much affordable housing for families having financial problems. There are also no shelters families in crisis can turn to, she says.
"We're doing all we can," says Holcombe, "but we're also searching out other options and ways to help. I would like to see a homeless shelter for families and a youth hostel. We also need to look at ways to create more affordable housing."
In the meantime, says Holcombe, "programs through the schools and people and groups within the community will keep working to assure the success of our students experiencing homelessness."
To learn more about how to help, email mholcombe@catoosa.k12.ga.us.