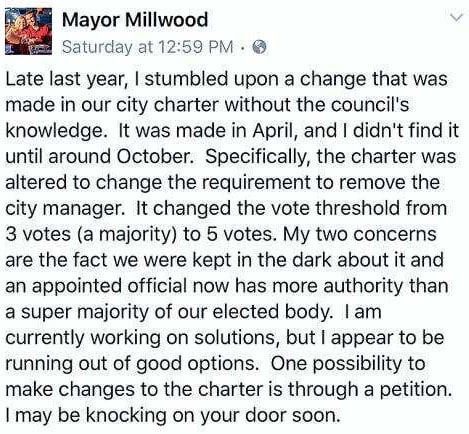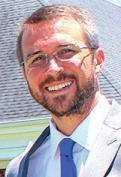 Ringgold Mayor Nick Millwood's real beef with a recent change to the city charter isn't that the change was made. It's because, he said, it was made without being completely upfront with elected officials and the public.
On most city matters, decisions are made based on a three-vote majority of the five-member council.
The adjustment to the charter was made in Atlanta by state Sen. Jeff Mullis, who represents Catoosa County in the Georgia General Assembly, on April 26, 2016, making it necessary for all five members to be in agreement if they want to fire the city manager. (Mullis, a Republican from Chickamauga, represents Senate District 53, which includes which includes Catoosa, Dade, and Walker counties and portions of Chattooga County.)
Mayor Nick Millwood brought up the issue in work sessions and regular meetings late last year, expressing his concern that the charter change was made without his or the council's knowledge.
"The change was made in April and I didn't find it until around October," Millwood said.
All five council members agree that they too were surprised when they first learned of the change, but added that they have no problem with the change itself of now needing a unanimous or "super majority" vote.
Council members Sara Clark and Larry
Black both say they wish the change had been communicated to the council better before it actually happened. But, they said, as mayor pro tern Terry Crawford pointed out in the most recent council meeting Monday night, May 22, the change was advertised by Mullis before it occurred.
"This was not a secret," Crawford said. "We have documentation from the secretary of state. The governor signed this also. ... Letters were sent out, and it was run as a legal in the county paper."
Councilman Randall Franks said Mullis went through the proper channels and that information about the pending change was obtainable online.
"The legislature has the right to put anything they want to in our charter, and they do it publicly/' Franks said. "It's posted on the state website. If any one of us had gone to the state website while it was being considered, any one of us would have known it was there."
After the council took no action on the matter late last year, City Manager Dan Wright says Millwood came to his office the week of May 14 with ongoing reservations about the matter. Millwood then took to social media on Saturday, May 20, where he talked about feeling left in the dark during the whole ordeal and wanting to organize a petition to change the charter back.
"I may be knocking on your door soon," he said to residents in his Facebook post.
The post garnered numerous comments and reaction, many of which criticized Mullis and made claims of "shady dealings" and "back room politics".
During the city council's May 22 work session and meeting, council members questioned Millwood as to why he won't let the issue lie. and why he chose to draw additional attention to the matter via social media.
"Why are we making a big issue out of this again, and why do you keep bringing it up?" councilman Jake Haynes asked. "Haven't we already discussed this, like, three times previously? Last time we said, 'we're all okay with this, and it's a dead issue'."
Millwood says his biggest issue is still how it was handled.
"I wanted to go out of my way to go through all of the options I have ... to exhausting all the options I have to get this done without going through a petition process, which is what I've most recently proposed doing," Millwood said. "A petition is a very public thing and I think that's unfortunate. I'm unhappy about doing it, but we submitted very specific charter changes, and this was added without us knowing. I disagreed with how it was put into the charter without knowing about it. I disagreed with the policy moving the authority from the council to the city manager. That's not a knock on Dan. It could be a different city manager. But I think the city council is elected by the people of the city and that's where the authority should lie. It's a disagreement on policy and how it came about."
Both Crawford and Franks said they feel the social media attention did more harm than good by getting residents riled up over something that isn't an issue since the entire council is on board with the change itself.
"My phone has rung off the wall," Crawford said. "There have been all kinds of comments about this.... First of all, what was done, was very legal. It was done by our state senator. Senator Mullis has great concern for our city and a great concern for our welfare. There's nothing in there that takes anything out of our hands. We have the ability to vote on this and take care of this ourselves should we want to change it. This was put in there for a reason, for our protection. I think it needs to stand. There was nothing underhanded, nothing illegal, no back room business, or 'good ole boy polities' as its been stated on social media. It was done right, with great intentions and consideration for the city and for protection of personnel in the future. I'd like to see us stand by this.
"If we need to, we have the ability to change it in the future," Crawford said, referring to the so-called "home rule" vote that allows the council to make the change without going through the legislature. "I think it's time we put this to rest," he said.
Franks said Millwood is stirring the pot and creating a bigger issue because he's acting on personal feelings rather than supporting the council's approval of the charter change.
"I've spoken to several of our constituents over the past couple of days and many of them have expressed to me a great sadness over this situation," Franks said. "The sadness isn't over the issue. It's over the mayor bringing the issue out in the way he did by placing his personal opinion above the better interest of our city and our business owners who depend on the smooth operation of city government to facilitate and not impede their opportunities for city growth. Every member of this council has told our mayor in public meetings that we did not wish to change this current charter change that occurred in 2016. We expressed our concerns as well, but we all agreed, our powers of government is given to us by our state legislature. I don't see where the mayor even has a dog in this fight. He has no charter duties in this discussion other than to be an advocate for the policies of this council. ... That is his charter duty.... He is supposed to, by law, go out publicly and support and recommend the policies that this board (city council) approves. The council set this policy back when each of us said to you, 'we supported the charter change as it was'. Apparently we're doing it again tonight in a formal vote."
Franks also discussed his frustration over the social media negativity that resulted from Millwood's posts.
"It's up to us to decide how this city operates," Franks said. "This bit of mayoral minutia relates to the operational concern of this five-member council. Taking on this kind of thing and parading it in front of the media negatively and creating a false concern or as it is popular to say now, "fake news," by someone wishing to create political hay for some unknown reason.... What's not being exhibited is good leadership. ... It's pettiness. It's sinking a ship for the sake of saving an anchor. This mayoral anchor will drag our residents, businesses, and all of us under. ... I think we should throw it overboard and let's get on with building opportunities for economic development."
Ultimately, the council unanimously approved leaving the charter change as is, but added that notification be required if any additional changes are made to the charter by Mullis after the council sends in its changes.
"We can handle the future of Ringgold right here with our own hands," Clark said.
Following the vote, Millwood defended his concerns over the matter.
"We were not supposed to know that this change was made in our charter, and I will not feel bad for bringing it into the light and letting our citizens know about it," Millwood said. "I'm not going to be made to feel guilty about that. In fact, I feel like it's one of the important things I do as mayor."
Millwood took to social media again after the Monday. May 22, meeting, stating the matter is closed and he's prepared to move on.
"At this point, I believe any attempt to draft a petition to trigger a special election on the matter would be met with swift reversal from the council if it were to succeed," Millwood said. "It is now clearly the policy of the city, and no one on the council is budging. I appreciated their acknowledgement of the issue regarding our governing authority not being informed and will respect their decision to not change the charter back to its previous form. I'm excited to move on with city business and continue to enjoy our community."
Sen. Mullis defends his actions, saying he added the change to give more stability to the city manager's position.
"Stability is what I am trying for here. I think it should be a super majority to fire a city manager or some type related position, again for stability and for due process and not to run for local office just to fire a city manager for political reasons."
"It was advertised in the county legal organ, Catoosa News, as required by Georgia law, weeks before it was presented/introduced in the legislature in 2016," he said. Moreover, he said, it was agreed on and presented by the local legislative delegation; after passing, it was on the internet completely as passed at least two months before the governor signed it; the legislative designation has the right and ability to adjust any city charter by law if they see fit; and, he sends a personal letter stating that each year to his elective leaders of each city and county in his district.
How do other local cities handle firing the city manager?
Fort Oglethorpe and LaFayette: Simple majority vote of 3-2 by city council. Chickamauga: At least four of the city's five council members approve it.
Rossville: Doesn't have a city manager.