Sheli Gilley says law enforcement has some misconceptions about House Bill 324.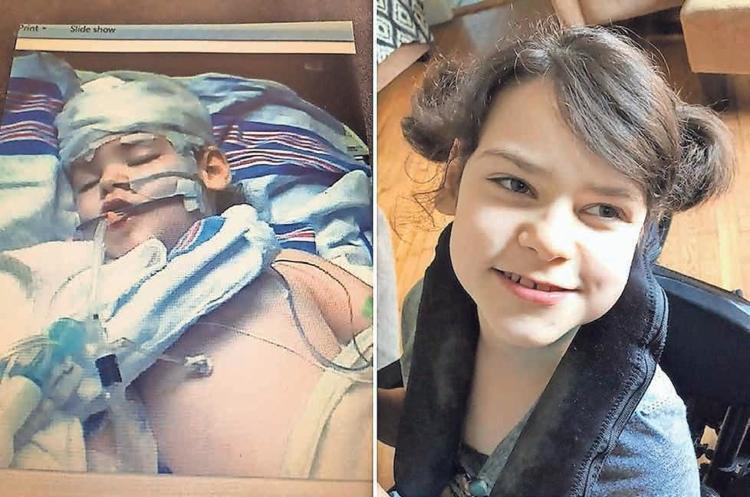 On March 5, Georgia House Bill 324, which would "provide for the production, manufacturing, and dispensing of low THC oil (also known as cannabis oil) in this state," passed the House by a vote of 123-40.
It was good news for Dalton resident Sheli Gilley. Gilley and her husband started their 12-year-old daughter Zoe on cannabis oil four years ago to control her seizures.
Zoe suffers from two conditions that cause seizures — CDKL5 and Lennox Gastaut Syndrome. "Her doctors have tried over 20 medications," says Gilley, "and she was still having up to 100 seizures a day, some of them lasting for seven or eight minutes."
Gilley says Zoe finally reached the point where she was in a perpetual seizure, even though she was on four medications at once. Then Gilley and her husband saw a documentary about cannabis oil and decided they had nothing to lose by trying it. Zoe couldn't do anything but lie in bed and she had to have regular tests to see if her medications were damaging her liver.
"When we started her on the cannabis oil," says Gilley, "her doctor started to wean her off her other medications and we started to see a difference. At first, we thought it was just hopeful thinking that made us see small improvements, but after two months we started to see big changes."
Zoe is now completely off three of her medications and will be off the last in another two months. She has gone from a coma-like existence, just sleeping and feeding, says her mother, to smiling, laughing, crawling, lunging, standing on her knees, playing with rattles and moving toward someone when they call her name.
"It's like getting to know your child for the first time," says Gilley. "She's not drugged up or having around-the-clock seizures, so her personality is coming out and you finally get to really meet her."
The Gilleys are on a list of individuals approved for the purchase of cannabis oil in Georgia, but they cannot buy the oil in the state, because it's against the law. "We order it online," says Gilley. "It's not covered by insurance, so it's out-of-pocket for us. It would help if we could buy it locally instead of always having to plan ahead to allow for delivery time. Sometimes money is tight and you try to wait until you absolutely need something to buy it."
Gilley says that concerns that have been expressed by local law enforcement about the legalization of producing and dispensing cannabis oil are exaggerated or misplaced.
"Cannabis oil has changed Zoe's life," says Gilley. Gilley says Zoe has a therapist who comes to the house and works with her on a computer using a program called Eagle Eyes. A camera is used to take a picture of Zoe's eyes and allow her to use them as a cursor on the screen.
"Zoe has learned she can interact with the program and make choices. Sometimes she'll focus on that little red 'x' in the upper right corner of the screen and close it down. She's gone from living in a vegetative state most of her life to being able to make decisions and act on them."
Tamara Wolk is a reporter for The Catoosa County News in Ringgold, Ga., and Walker County Messenger in LaFayette, Ga.
GILLEY: LAW ENFORCEMENT HAS MISCONCEPTIONS
Catoosa County Sheriff Gary Sisk and Walker County Sheriff Steve Wilson, along with several other sheriffs in Northwest Georgia, held a news conference on March 4 to voice their concerns about House Bill 324.
They worry that shops selling cannabis oil would clutter Northwest Georgia near the interstates and cause problems similar to the ones too many methadone clinics cause, drawing people from out of state and increasing crime.
But Sheli Gilley says that the only people who could legally purchase the cannabis oil would be Georgia residents with special ID cards whose physicians have approved of the therapy.
Gilley also dismisses concerns expressed by the multiple law enforcement personnel at the news conference that HB 324 would open the door to legalizing the recreational use of marijuana. She says the bill includes strict limitations and oversight.
Gilley says she has talked to a number of legislators and they all support the measures in HB 324. One, she said, did not support the measures in the past but has changed his mind. The next step for the bill is a Senate vote, which Gilley thinks will be favorable.
"Her doctors have tried over 20 medications and she was still having up to 100 seizures a day, some of them lasting for seven or eight minutes. ... We started her on the cannabis oil. ... After two months we started to see big changes.
Sheli Gilley, Zoe's mother