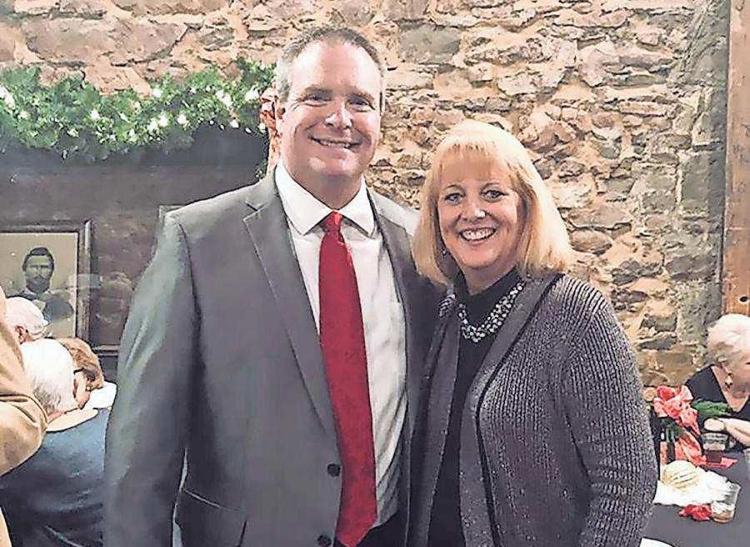 Amy Jackson is not new to the Catoosa County Chamber of Commerce, but she is the new president and CEO of the group that represents 375 businesses in Catoosa County and neighboring parts of Chattanooga.
"I appreciate the support and confidence from the Chamber board in selecting me and the recommendations and support of Catoosa County, Fort Oglethorpe and Ringgold city officials, as well as the overwhelming support of Chamber membership on my selection," says Jackson. "This has been a very humbling experience."
Jackson is replacing former Chamber president and CEO Martha Eaker, who retired last year.
We asked Jackson to share a little of her life and experiences with us. Here's what she had to say.
Please share your history with the Chamber.
I became a Chamber ambassador in 1999 when my family and I moved back to the area after living in Savannah and Nashville for 10 years. I served as an ambassador through 2002. I personally experienced how the Chamber can help individuals build business and personal relationships to increase sales and become more involved in the community while I was working as the business sales manager for T-Mobile in Chattanooga.
I started working for the Chamber as membership coordinator in April 2016.
How would you describe your responsibilities as Chamber president and CEO?
It is my responsibility to lead the Chamber in efforts to champion business in Catoosa County by carrying out the Program of Work as approved by the Chamber board of directors. I'm thrilled to be working with Denia Reese, Catoosa schools superintendent, who is the Chamber board chair for 2019. I love the Chamber's involvement and partnership with business and education.
What makes you excited about your new position?
The opportunities to make a greater impact on the Catoosa County community. I look forward to working with local non-profits, business owners and leaders and education entities to promote our community in business, workforce and economic development.
Does anything seem daunting about your new position?
Martha Eaker has held the position of Chamber president and CEO for 12 years and has done a great job. I know these are big shoes to fill, but she has been a mentor and has allowed me to participate in decisions throughout my time at the Chamber, especially since I was named president and CEO in August of last year. I look forward to getting the Chamber employee team in place as we continue the vision and mission of the Chamber.
What strengths do you feel you bring to your new position?
Organization, planning, relationship-building, communication and a positive attitude.
Any new ideas you'd like to implement?
I'd like to have a Young Business Professionals group and also an individual membership for retired business people who have years of professional experience to share and who would like to be a part of the Chamber.
Please share your job history.
I was an account marketing representative for IBM in Savannah and in Nashville. I worked as a business sales manager for T-Mobile in Chattanooga. And I've worked as the Colonnade events coordinator and Chamber membership coordinator. I also worked several parttime jobs while raising our two sons.
What are some community things you've been involved in?
I'm a member of Brainerd Hills Baptist Church and a board member for both the North Georgia YMCA and Catoosa County Community Food and Benevolence/Stocking Full of Love. I'm on the steering committee for Catoosa County Schools Partnership and a board member for Catoosa County Schools From HERE to CAREER! College and Career Academy.
Where did you grow up?
I'm the baby of five children. My family moved to Chattanooga (East Brainerd) when I was in third grade. I went to Westview Elementary, Ooltewah Middle and Ooltewah High School. I graduated from UTC with a BS in business management. After graduation, I married my husband Greg and we moved away for 10 years, then we came "home" to Catoosa County to be near our parents and to raise our children.
Please share some about your family.
My husband Greg and I will celebrate 30 years of marriage in May 2019. We have two sons — Eric, 22, who graduated from Berry College in 2018, and Evan, 16, who is a junior and a band member at Heritage High School. My husband and sons are all actors and have been in many musical theatre productions at The Colonnade, the Tivoli and at Heritage High School.
Do you have any pets?
We have two precious dogs that we refer to as "the girls." Lexi is an 8-year-old Yorkie and Joy is a 3-year-old Shih Tzu. We adopted them both from other homes.
Any hobbies?
Watching musical theater stage shows, especially ones my husband and sons are in. I'm a great audience member!
We just enjoyed our first trip to New York City and saw three Broadway shows. We have season passes to the Fox Theatre in Atlanta.
I love to plan gatherings and game nights with my "theatre moms" group. There are 10 of us who have grown close over 12+ years of our kids doing community theatre.
I like to stay busy and plan memorable experiences close to home.
Most of our outings are local or within two hours of home — Atlanta, Gatlinburg, Knoxville or Nashville.
Favorite movie?
"Gone with the Wind." I first watched it in the theater at age 6 and have probably seen it 15 times in my lifetime. It's a classic.
Favorite food?
Chick-fil-A and Coca Cola.
Favorite person from history?
I've loved Abraham Lincoln from a very young age. I think it's because he held our country together during its darkest days.
Sports fan?
Not really. We are band parents and enjoy a football game for the half-time show.
Favorite quote?
"Don't find fault, find a remedy." — Henry Ford
Someone who has had a deep influence on your life.
My mother, who passed away three years ago. She created memories and always made people feel like they were the most important person in the world at any specific time. I love to create memories for those I love and care about. I used to post pictures on Facebook so my mother could see what the kids were doing and what was going on. My parents always encouraged me to live outside my comfort zone. I'm pretty sure they are enjoying my Chamber journey!
What is an event in your life that has helped define the kind of person you are?
Learning to live on my own while I was in college, which prepared me to live independently while my husband was deployed overseas for Operation Desert Storm.
What are some things people may not know about you?
I'm afraid of frogs. I was once an Army wife. My husband was deployed in a tank company in Iraq for seven months in 1990-1991. It feels like a lifetime ago.
Also, I love business!
In sales and in life, you have to get the "no's" to get the "yeses." Cold calls are a great opportunity to meet others in my community and I enjoy that.