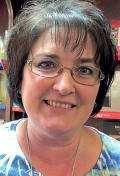 Sometimes very good things come in small packages. SonShine Christian Book Store, located next to Planet Fitness in Fort Oglethorpe, is one of those little treasures.
"In many ways, I can't compete with the online stores," says owner Karen Demastus. "But we have a lot more than people might think, and we offer the personal service that only a local business can."
SonShine has been in business for 12 years. "We bought the store when it was located in LaFayette," says Demastus, "then we bought a second Christian bookstore in Fort Oglethorpe – Harvest Time Celebrations."
Demastus said it became apparent pretty quickly that two stores, even with the help of relatives, were too much to handle, so they consolidated the two into the one in Fort Oglethorpe, keeping the name of the original shop in LaFayette.
Things have changed over the years, says Demastus. "It's hard for a bricks-andmortar bookstore and gift shop to stay in business. Both Rome and Dalton recently lost their only Christian bookstores. Christian publishers like Zondervan and Thomas Nelson have been bought out by secular publishing houses."
Demastus considers what she does as much ministry as business. She focuses on bringing in merchandise and services that will enrich her customers' lives and help them reach out to others.
One of the more popular features at SonShine is their MyMedia Burnbar. "If you want specific music for a wedding or funeral or just for personal listening," says Demastus, "we can customize and burn a CD for you." The store also carries a variety of Christian music and soundtracks, as well as concerts and movies on DVD.
Bibles are one of SonShine's biggest
SonShine Christian Store
1841 Battlefield Parkway, Fort Oglethorpe. Hours: Monday through Saturday, 10 a.m. to 6 p.m. For more information: 706-861-7675 or facebook.com/SonshineChristianBookStore.
sellers. "We have many versions and varieties, and imprinting is available, often at the time of purchase," says Demastus. There are also plenty of Bible accessories, including covers and bags, tabs and highlighters, and there are study guides to enhance Bible reading.
The shop carries popular Christian books, both fiction and nonfiction. There's a full line of greeting cards, post cards, bookmarks, message cards and stickers. There's also a large selection of gospel tracts, including Chick tracts.
Church, Sunday School and Vacation Bible School supplies are also a focus of SonShine.
For those searching for the perfect faith-based gift, the choices at SonShine are many: jewelry, Kerusso T-shirts, ties, hats, mugs, figurines and home decor. There are gifts specifically for parents, grandparents, sons, daughters, teachers and pastors. The store carries special items for new parents and has a children's section.
Holiday times, especially Christmas and Easter, bring in special merchandise.
"There are so many precious people who come in here," says Demastus. "I've made wonderful friends and have had all kinds of good and interesting conversations. I've grown in the Lord being in this business. You want to be able to help people, direct them to passages in Scripture when they're hurting, sometimes even challenge someone to think more deeply.
"I wouldn't trade any amount of money for the experience of this store, even with its challenges and struggles," Demastus says. "God knows where to put you. The journey has been sweet and we continue to press on even when so many have not been able to survive the changes the internet has produced."