Ft. Oglethorpe awards bid for renovation of old gym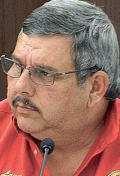 The city of Fort Oglethorpe awarded a recreation bid during a City Council meeting held Monday, June 12, for renovation of an old gymnasium just off Lafayette Road.
The gym at 221 Second St. has been out of commission for a number of years, which initiated both the city and county's interest in revitalizing the facility for local sports use.
In May 2016, Fort Oglethorpe and Catoosa County entered an intergovernmental agreement regarding the project.
A little more than a year later, the bid has been awarded and teams could be playing ball in the revamped building by the end of the year, according to Parks and Recreation Director Jeff Long.
"We had the bid opening on June 6 and received three bids," Long said. "The overall low bid was submitted by Robert Roberts LLC out of Chattanooga at $611,000.
"All three bids came in under what we expected. The architect was estimating somewhere in the neighborhood of $800,000 to $850,000. They've (the contractor) given us a timetable of 150 days, so hopefully we can have it ready for the basketball season, which usually starts in December."
Long explained that the building is actually owned by Catoosa County, which necessitated the initial intergovernmental agreement.
"The county owns the building, but we'll run it and maintain it," he said. "We'll rent it out and pay the utilities. The building was purchased in 2009 through county SPLOST funds that were designated for Fort Oglethorpe recreation."
The 12,000-plus square-foot facility will be multi-purpose, housing not only a basketball court but also accommodating volleyball and indoor batting cages for baseball.
"The basketball goals and bleachers are not included in this bid, but they will be added later, as will a scoreboard that'll be furnished by CocaCola," Long said.
As far as funding goes, City Manager Jennifer PayneSimpkins said more than $300,000 in reimbursement funds were allocated for the project by the county per last year's agreement.
"The county will contribute $368,832.29 from 2009 SPLOST funds dedicated to recreation improvements," PayneSimpkins said. "The city will contribute $242,167.71 in 2014 SPLOST funds allocated to the city."
The overall project includes total renovation of the 10,760-square-foot facility and the addition of about 1,500 square feet of restrooms and office space. Insulation will be installed as well as all-new electric and plumbing systems as part of the renovation.
Payne-Simpkins added that this project has been in the works for awhile as a way of promoting sports and recreation in the community.
"This project is a top priority for the mayor and city council," she said. "The community expressed a need for such a facility, and the mayor and council worked with Catoosa County to make it a reality."